Russian parents are demanding answers over the "missing" soldiers from Russia's sunken missile cruiser Moskva, more than a week after the vessel sank in the Black Sea after being "seriously damaged."
The flagship of Russia's Black Sea Fleet sank on April 14 shortly after Ukraine claimed to have dealt significant damage to the vessel with Neptune missiles.
The Kremlin claimed that the Soviet-era vessel was damaged after a fire on board caused ammunition to detonate.
The Kremlin claimed the Soviet-era vessel's roughly 500 personnel were successfully evacuated to other ships before being returned to the port of Sevastopol in Crimea on Friday.
The cause remains disputed.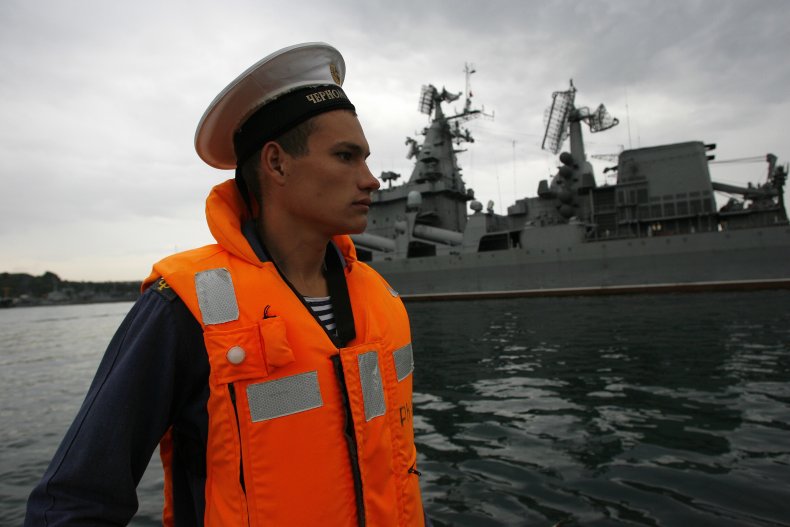 After days of silence on casualties, Russia said Friday that one crew member died and 27 were missing. Parents and other relatives of crew members, including conscripts, took to social media demanding answers over the missing.
One parent, Dmitry Shkrebets wrote on Russian social networking platform VKontakte on April 17 that his son Yegor Shkrebets, who was stationed on the vessel, was initially added to the list of "missing people."
Shkrebets said his son served as a chef on the vessel, and that he had been called for military service on July 2 last year.
Days later, on April 22, he suggested that Russian authorities are now telling him that his son is not in fact among the list of Moskva's "missing."
"Today is 9 days since the Moskva cruiser tragedy," he wrote. "By the evening of April 14, all of us, the parents of the 'missing' sons of the sailors, various officers of the Navy began to announce that we had become the parents of the 'missing' sons."
'Surreal Madness'
Shkrebets said he learned from the deputy commander of his son's division, Alexei Alexandrovich Bugorsky, that his son was missing. He noted that Russia's Ministry of Defense almost simultaneously announced that the entire crew had been evacuated.
"We have been living in this surreal madness for 9 days now!!" he wrote.
Shkrebets said when he called the defense ministry's hotline about his son, he was told that he was not in the list of those dead, wounded or missing, and was directed back to the commander of the unit in which his son was enlisted.
According to a screenshot of a conversation between Shkrebets and the commander, the commander said: "I don't know why they say that," and told him to "pray."
"The main thing that I am guided by is a father's pain for the loss of his son," wrote Shkrebets. "Although the hope for a miracle lives on, and the desire to break through this stupid wall of indifferent, frenzied silence."
Newsweek has contacted the Russian Ministry of Foreign Affairs for comment.