Libertarian Votes Could Save Herschel Walker in Georgia Runoff
Georgia Republican Herschel Walker may get a seat in the U.S. Senate with help from the state's Libertarian Party voters as well as from members of his own party, which has historically shown an advantage when it comes to getting its supporters back to the polls.
His contentious race with Democratic incumbent Raphael Warnock will go to a runoff election on December 6 after neither candidate received over 50 percent of the vote in Tuesday's election.
Of 3.957 million ballots cast across 159 counties, the Georgia secretary of state's office reported Wednesday that Warnock led with 49.41 percent. He was followed by Walker with 48.52 percent, and Libertarian Chase Oliver with 2.07 percent of the vote. Voter turnout was 56.92 percent.
For live updates on the midterms, head over to Newsweek's Live Blog: Who Won the Midterm Elections 2022?—Senate, House, Governor Results.
Oliver, who helped cause the runoff, told Newsweek on Wednesday that his "goals were met." He added, "A runoff will occur and the major parties now need to fight for the Libertarian vote."
In the days leading up to the election, Oliver told Newsweek that it was not his job "to push [constituents] toward one wing or another of a duopoly."
He said that he was aware he was the reason for the runoff, following a campaign that saw his numbers rise to 5 and 6 percent in various polls before Tuesday's vote—realistically enough voters to shift a second election in Walker's or Warnock's favor.
"If there's a runoff, I have already stated I'm willing to provide a forum for both candidates to speak to the Libertarian and independent voters," Oliver said, "but that I won't be endorsing a candidate because it's not my place to tell voters which of the lesser evils they want to pick."
A FiveThirtyEight poll days prior to the general election showed Oliver polling at 1.6 percent. Walker and Warnock were neck and neck, 49.3 percent to 49.2 percent, respectively. Georgia law requires that a candidate receive the majority of the vote.
When asked if he had been nudged or approached by either main-party candidate to drop out in the midst of his campaign, Oliver said he hadn't.
"If I were [approached] by either of my opponents, they would get an emphatic 'no' from me and I would make sure everyone in the media knew that they approached me," said Oliver, who has knocked on thousands of doors throughout his campaign. "I don't believe in dropping out of the race to endorse one of the two-party candidates because I believe in having options outside of the two-party system.
"I think it would be a disservice to people who have voted for me, who have donated to my campaign, who have supported me, for me to drop out and endorse a candidate," he added.
Libertarian National Committee Chair Angela McArdle told Newsweek prior to the election that in a case of a runoff, she would encourage any Libertarians in Georgia to vote Libertarian and "others to vote their conscience."
She acknowledged that Libertarians can be viewed as a "pain point" for the two major parties, but Democrats and Republicans "are not entitled" to anyone's votes—including those earned by Oliver.
"I know there's a lot of pressure from Republicans this election season for Libertarian candidates to drop out," she said. "I think if Republicans are afraid of Libertarians being spoilers, they need better ideas—especially in Georgia."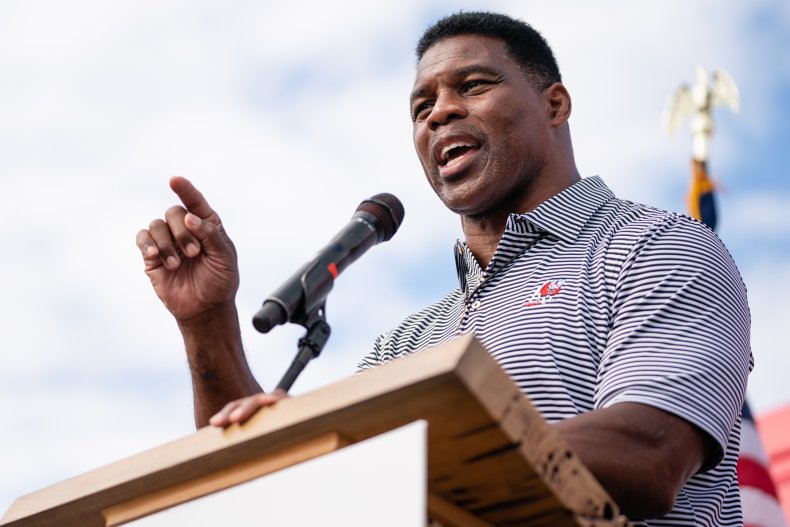 She said that while Warnock "wants to pay service to the LGBTQ community," Walker doesn't communicate to the electorate why anyone should vote for him and that he relies on his GOP status to garner votes.
"It sounds like [Walker] needs to get his personal affairs in order before he gets his Senate seat," she added.
The Libertarian Party is running over 625 candidates nationwide. McArdle said the party's goal is for candidates to get elected, but it also extends to pushing the Overton window so main parties potentially adopt some positions for the mainstream electorate.
Oliver said that he and Walker share the same viewpoint on issues like the 2nd Amendment, for example.
Another shared issue among Oliver, Walker and Warnock involves reforming the current immigration system described as "broken."
Oliver and Warnock also share reforming the criminal justice system.
Elizabeth Melton Gallimore, executive director of the Libertarian Party of Georgia, told Newsweek that Chase Oliver "represents the people" and is the only candidate in Georgia who "wishes to remove the counter-productive measures that the establishment keeps promoting."
"Both Warnock and Walker act on the behalf of the establishment—a system that, in practice, works for the benefit of the system itself rather than for the people that it purports to represent," Gallimore said. "It is in their best interest to portray the solutions to societal problems as problems that only government intervention can solve, as this drives more power and influence into their hands."
It would be wise for the Warnock and Walker campaigns to look at issues Libertarians promote so they can adopt them as their own in what is a "purple" state, she said.
"It is untrue that Libertarians will automatically vote for the Republican in a runoff election," she continued. "Although Libertarian principles are grounded in a common, small-government philosophy, we all have different priorities."
That could mean a Libertarian Party member voting for a Democrat who is running on ending the Drug War or encouraging criminal justice reform. A party member could theoretically vote for a Republican who has made COVID-19 lockdowns a major campaign issue, or who prioritizes 2nd Amendment rights.
But many will stay home entirely in December, Gallimore said.
That is true historically and has benefited Republicans in seven of 11 run-offs in statewide elections in the past six decades, explained Charles Bullock, a political science professor at the University of Georgia, to FiveThirtyEight.
"In runoff elections, the question is, 'Who can get their people back to vote?'" Bullock said. "And Republicans have historically had more success with that."
That wasn't the case in 2021, when Warnock and current U.S. Senator John Ossoff defeated Republicans David Perdue and Kelly Loeffler. Bullock attributed that in large part to former President Donald Trump's mixed messaging to voters about dubious elections.
Perdue never showed up to debate Ossoff before he lost the election by a razor-thin margin.
That was also the case with Walker, who did not show up to a debate with Warnock and Oliver at the Atlanta Press Club earlier in the campaign.
"I felt like it was a disservice to the voters to not show up to the debate....Herschel Walker walked out of a debate he was invited to," Oliver said. "I don't think that's a good sign of your confidence in yourself and being able to defend your positions if you're not willing to debate anytime, any place—which is something he said and did not follow through on."
Warnock and Walker later debated in Savannah, and Oliver was not permitted to participate. He spent the evening protesting outside the facility, asking why a third-party member was excluded by polling average rules aimed to dilute the conservation.
"It was obviously a strategic decision for Walker to specifically choose to participate in the debate from which the Libertarian was excluded," Gallimore said. "I do not know if it will ultimately cause someone to refrain from voting for him, but I believe that it did leave a negative impression upon him among Libertarian voters."
Oliver said voters who may be "frustrated" with the runoff should join him and others by calling for ranked-choice voting. That has previously been introduced by both Republican and Democratic sponsors in the Georgia General Assembly, but only for municipal elections.
"A growing number of voters are continuing to show dissatisfaction with the two ruling parties and their leadership and hyper-partisanship will only make that worse," Oliver said.