The U.S. Libertarian Party has filed for conservatorships for President Joe Biden and Senate Minority Leader Mitch McConnell, referring to them as "geriatric elites" mentally unfit to properly serve the American populace.
Biden, already the oldest living president at age 80, currently plans to run for reelection and, if successful, would be 82 at the beginning of his second term and 86 at its conclusion. He has been ridiculed for myriad gaffes and rambling statements, including mixing up Ukrainians and Iranians as well as referencing dead lawmakers in speeches.
McConnell, 81, has represented Kentucky in the Senate since 1985. Calls for his resignation ramped up following two separate but similar incidents in which the lawmaker froze in public—once on July 26 while addressing reporters in the U.S. Capitol, and more recently on August 30 in Covington, Kentucky, as a reporter asked if he would seek reelection in 2024.
Libertarian National Committee Chair Angela McArdle, who oversees the nation's third-largest political party, told Newsweek on Tuesday that to her knowledge this is the first instance of such filings against sitting politicians.
She said the party has conferred with several attorneys, including three who drafted the paperwork, who said that, legally, an organization can have a conservatorship over an individual in Washington, D.C.
"Is it going to be a fight in the courts? Obviously. But we're committed to filing this thing and we wanted to send a really strong statement that we're serious about getting someone in the White House who has the mental capacity to run the country because we don't have that right now," McArdle said.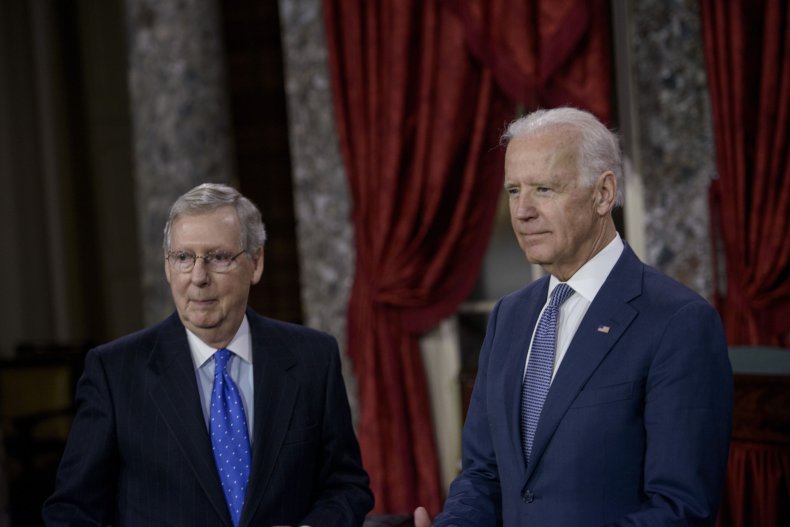 The petitions shared with Newsweek convey purported concerns about the age, health and general well-being of both Biden and McConnell.
The petition for Biden states the following as to why he is incapacitated: "The subject exhibits obvious signs of mental confusion and cognitive decline in public. He wanders around confused, stumbles over his words, and has incurred over $4.8 trillion in debt since taking office in 2021. The subject has also involved us in an unwinnable war [in Ukraine]."
The petition for McConnell is mostly similar: "The subject exhibits obvious signs of mental confusion and cognitive decline in public. He had a stroke during an interview and advocates for sending taxpayer money overseas. The subject has also involved us in an unwinnable war [in Ukraine]. He cannot manage finances."
McArdle said that Biden and McConnell, in addition to Democratic Senators Dianne Feinstein, 90, and stroke victim John Fetterman, are too mentally impaired and lack the capacity to make important decisions that affect the American people.
She said Biden and McConnell, specifically, "have squatted in public office for decades, amassing massive wealth from lobbyists, Super PACs and tax dollars" and, after decades of public service "stubbornly refuse to pass the torch."
"It seems like this is an elephant in the room that no one wants to talk about," McArdle said. "These two gentlemen—and plenty of others like Feinstein, and Nancy Pelosi is getting up there as well—they don't seem well enough for anyone to even leave them home alone all day. It's crazy to me that they're still running the country and making major financial decisions."
The party also considered filing for guardianship as well but refrained because a conservatorship "hits home" from a fiscal responsibility position.
Biden's age continues to be a concern for potential 2024 voters, even among Democrats.
Polling conducted August 5-6 for Newsweek by the Redfield & Wilton Strategies poll found that approximately 75 percent of Democrats said they were "concerned" about Biden's ability to perform his job due directly to his age.
Current Republican front-runner and former President Donald Trump, who is 77, said recently that not Biden's age but his "incompetence" should be voters' deciding factor.
But the polarized American electorate seems to agree on one thing: they don't want a Biden-Trump rematch next year.
Recently, Republican Congressman John James introduced legislation that would amend the Constitution and prevent someone from running for office "if at any time during the term the person will be 75 years of age or older."
McArdle said she is hesitant about imposing age limits based on current life expectancy and scientific advancements, as well as how age can affect individuals in different ways.
But she believes that people, like Biden, Trump or others, who are or would be 80 years or older in office are "too old."
Asked if the hypothetical Biden-Trump rematch is an indictment of the American voting populace, she replied that it's more of an indictment against hyper-partisanship.
"The fear-mongering that we have around people who are different than us to such an extreme that we would put in someone who's literally suffered from a recent stroke and can't string two words together—we would rather put someone into office like that than see someone from a different political party in power," she said.
"That is really disturbing. I don't know that the entire country feels that way. I think there are a lot of people who are sort of fed up with it, and they've seen it for what it is."
Newsweek reached out to the White House and McConnell's office via email for comment.