JetBlue New York Flight Struck by Lightning Near L.A. Forced Into Emergency 'Overweight' Landing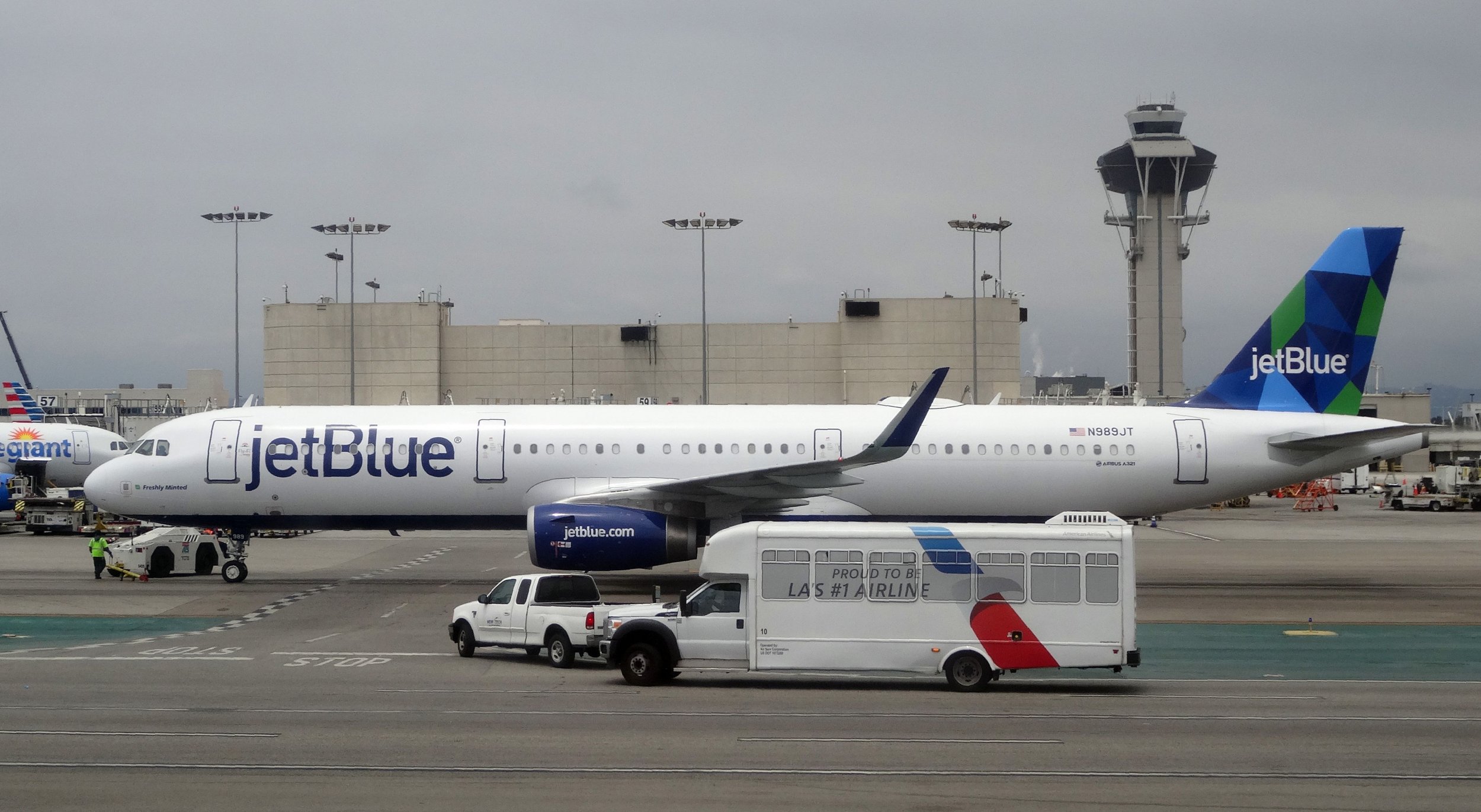 A JetBlue flight from California to New York was forced to turn back Thursday after it was struck by lighting in the middle of a thunderstorm.
Flight 324, which was carrying 153 people at the time, landed safely back at Los Angeles International Airport (LAX) after less than an hour in the air, CBS Los Angeles reported.
"It's going to be an overweight landing, pretty much it, don't know if we have any damage here," the pilot told air traffic control in a midair recording obtained by the station. "That's our reason for going back."
"Hopefully, lightning doesn't strike twice," he added. "Yeah, let's hope," responded the air traffic controller.
An "overweight" landing takes place when the total weight of an airplane and its contents is higher than its maximum design landing weight. The large amount of fuel still onboard at the start of a flight can leave a plane above this limit.
A JetBlue spokesperson confirmed to Newsweek that Flight 324 from LAX to John F Kennedy International Airport turned back after a "possible lightning strike." "The aircraft landed safely at approximately 11:15 a.m. PT (2:15 p.m. ET) and taxied to the gate. Customers were accommodated on another aircraft and continued on to JFK," a company statement read.
The Federal Aviation Administration confirmed to CBS Los Angeles that the plane's crew reported it was struck by lightning.
Passengers took to Twitter to vent their frustration and share their surprise at the unusual event.
"No joke, our plane from LAX to JFK got hit by lightening [sic]. Turning around and heading back to LA for emergency landing," one user wrote.
"This is turning into a cursed @JetBlue flight. First I was downgraded from Mint to stowage. Then our plane was struck by lightning during takeoff and we're heading back to LAX," another tweeted. "At least WiFi still works."
One passenger lamented missing the novel incident. "Our plane got struck by lightning, everyone was freaking out and I slept through the whole thing," the Twitter user wrote.
In other aviation news, a man was caught with a snake in his pants on Christmas Eve at Berlin-Schonefeld Airport. The man was planning to fly from the German airport to Israel.
Customs officers confiscated a 16-inch serpent he had secreted in a small bag and stuffed in his trousers. They labeled the unusual package the "most curious find of 2018."