'Like I'm Begging': Trump Snaps at Lesley Stahl Over President Saying Suburban Women Should Love Him
President Donald Trump snapped at 60 Minutes correspondent Lesley Stahl during a recent interview, accusing the journalist of misrepresenting his pleas for suburban women to vote for him in the upcoming election.
"You said the other day to suburban women, 'Will you please like me, will you please—,'" Stahl began her question before Trump cut her off, calling her remarks "misleading."
"See, the way you said that is why people think of you and everyone else as 'fake news,'" Trump shot back. "I said kiddingly, 'Suburban women, you should love me. I got rid of a regulation that would bring low-income housing into suburbia that would destroy suburbia.' And I said that in a joking way. The way you have it is...like I'm begging. I'm kidding."
Trump's comments are featured in a 60 Minutes interview that will air on Sunday, but the president decided to release it early on Thursday through his Facebook page, asking his supporters to "look at the bias, hatred and rudeness on behalf of 60 Minutes and CBS."
Stahl's initial question referenced a statement Trump had made last week during a campaign rally in Johnson, Pennsylvania. The president appealed directly to suburban women, a demographic he won in 2016 by just two percentage points.
"Do me a favor, suburban women, would you please like me? Please. Please," Trump told supporters at the October 13 event. "I saved your damn neighborhood, okay?"
Trump has increasingly focused his attention on this particular demographic in the final stretch leading up to the November 3 election. He's worked to frame his candidacy as being in defense of the suburbs following a summer filled with violent protests in several American cities over racial injustice and police brutality.
"Why would Suburban Women vote for Biden and the Democrats when Democrat run cities are now rampant with crime (and they aren't asking the Federal Government for help) which could easily spread to the suburbs, and they will reconstitute, on steroids, their low income suburbs plan!" Trump tweeted August 22.
Trump echoed this claim in his interview with Stahl, asserting that he is "saving suburbia." Democratic candidate Joe Biden will "destroy suburbia" if elected, Trump told the journalist, referencing the Obama-era fair housing regulation that Trump terminated in July.
Known as Affirmatively Furthering Fair Housing (AFFA), the 2015 plan reinforced a clause of the 1968 Fair Housing Act requiring the Department of Housing and Urban Development to "affirmatively" further fair housing in "their programs and activities relating to housing and urban development," according to FactCheck.
Biden would "put back [the regulation] even worse, that will destroy—that will bring low income housing projects into suburbia," Trump told Stahl. "And women understand that...They want security, they want safety."
Trump has repeatedly insisted that AFFA would require the construction of low-income homes in suburban areas, but it does not, FactCheck reported. "This rule does not impose any land use decisions or zoning laws on any local government," the HUD said of AFFA.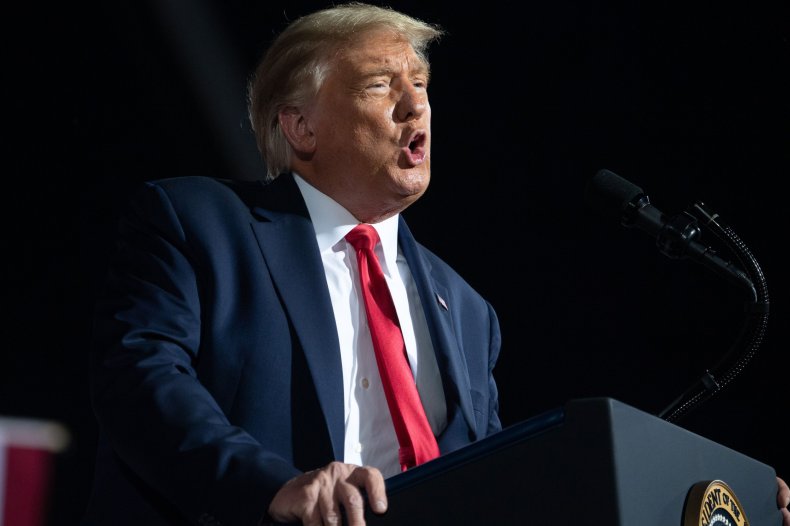 The president's views of "suburban women" seem to reflect those of an era long gone— one that featured white picket fences and "housewives" who looked after the children, cleaned and prepared dinner while their husbands were off at work.
Much has changed since then as well as in the four years following Trump's election. His well-documented rhetoric of sexist and demeaning comments toward women inspired marches and mobilized more female candidates to successfully run for office in 2018. The #MeToo movement helped many women find their voice and speak up about instances of sexual abuse at the hands of men, shedding new light in the conversation on gender inequality.
This energy has helped create the widest political divide between men and women in recent U.S. history, the Associated Press reported. Stahl pointed out as much during the interview, telling Trump that polls are showing that he continues to trail Biden among suburban women.
Women are casting their ballots earlier than men this year, and some recent polls show Biden receiving 60 percent of support from this demographic, according to the AP.
Recent polling by The New York Times and Siena College shows Trump losing ground with the demographic. Biden leads the president by 23 points among suburban women in battleground states, according to the Times.
Correction 8:23 PM ET: Updated with a correction to Lesley Stahl's first name from an earlier version of this story. It is Lesley, not Leslie. We regret the error.