'Please Like Me?': Donald Trump Begs Suburban Women to Vote for Him at Pennsylvania Rally
President Donald Trump begged suburban women to vote for him and claimed that he "saved their damn neighborhood" during a campaign rally in Johnstown, Pennsylvania on Tuesday evening.
"Do me a favor, suburban women, would you please like me?" the president said in his latest pitch to the demographic. "I saved your damn neighborhood, okay?"
Suburban women constitute a key voting bloc in the crucial battleground state of Pennsylvania. Pollsters and political strategists have indicated that the group could be the tipping point in the swing state that Trump narrowly won—by one point—over former Democratic presidential nominee Hillary Clinton in 2016.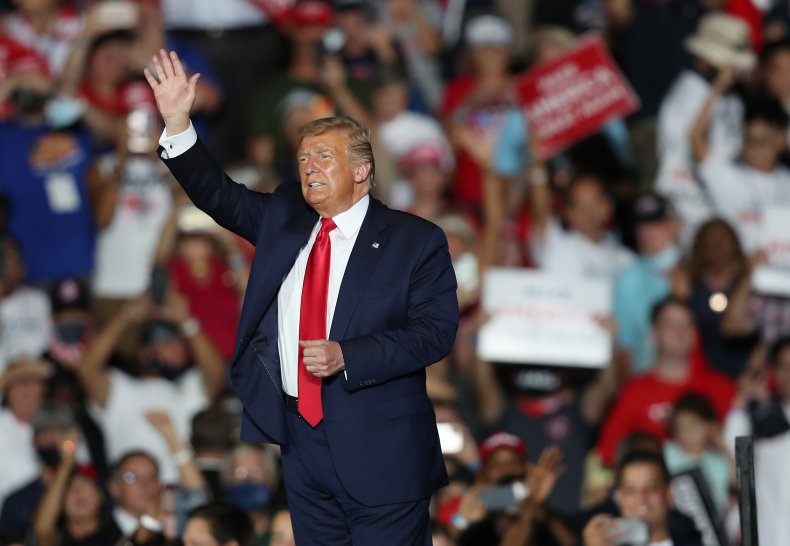 Some experts say white suburban Republican women unhappy with the president's job performance may turn to vote for his Democratic opponent Joe Biden. This political shift could offset the ground that Trump made among working-class males in 2016.
Biden currently holds an average seven point lead over Trump in Pennsylvania, according to data maintained by Real Clear Politics.
Both candidates have made numerous trips to the state in recent months. A few weeks before Trump's rally on Tuesday, Biden stopped by in Johnstown on September 30 to warn voters about the president's allegedly dismal handling of the coronavirus pandemic.
Newsweek reached out to Biden's campaign for comment.
The president's rally in Johnston on Tuesday marked his second in-person campaign event since testing positive for coronavirus earlier this month.
During his rally in Johnstown, Trump praised the doctors who treated his infection and told the crowd that high-quality medical care was a "great" benefit of being president.
"If you're not feeling 100 percent, you have more doctors than you thought existed in the world," he said. "I was surrounded by like 14 of them."
Trump also vowed that vaccines are "coming soon."
"We have—the vaccines are coming soon, the therapeutics and frankly, the cure," the president said. "All I know is I took something, whatever the hell it was, I felt good very quickly. I don't know what it was. Antibodies. Antibodies. I don't know, I said I took it, I felt like Superman and I said, 'let me at 'em.'"
For the second time in two days, Trump offered to kiss people in the crowd to prove that he was immune to COVID. "I'll kiss every guy, man and woman, man and woman," he said on Tuesday after issuing similar remarks at a campaign rally in Sanford, Florida on Monday night. "Look at that guy, how handsome he is. I'll kiss him. Not with a lot of enjoyment, but that's okay."