Trump Says 'Great Thing About Being President' Is Abundance of Doctors When You Catch COVID
President Donald Trump praised the doctors who treated his coronavirus infection during a campaign rally on Tuesday in Johnstown, Pennsylvania.
Trump praised a monoclonal antibody therapeutic medication manufactured by pharmaceutical firm Regeneron, which he received during his three-day-long stay at Walter Reed National Military Medical Center, as something akin to a miracle cure. He told the Pennsylvania crowd that top-notch medical care was a benefit of being the president.
"If you're not feeling 100 percent, you have more doctors than you thought existed in the world," Trump said. "I was surrounded by like 14 of them."
Trump also promised that medications for the coronavirus were "coming soon."
"We have—the vaccines are coming soon, the therapeutics and frankly, the cure," Trump said. "All I know is I took something, whatever the hell it was, I felt good very quickly. I don't know what it was. Antibodies. Antibodies. I don't know, I said I took it, I felt like Superman and I said, 'let me at 'em.'"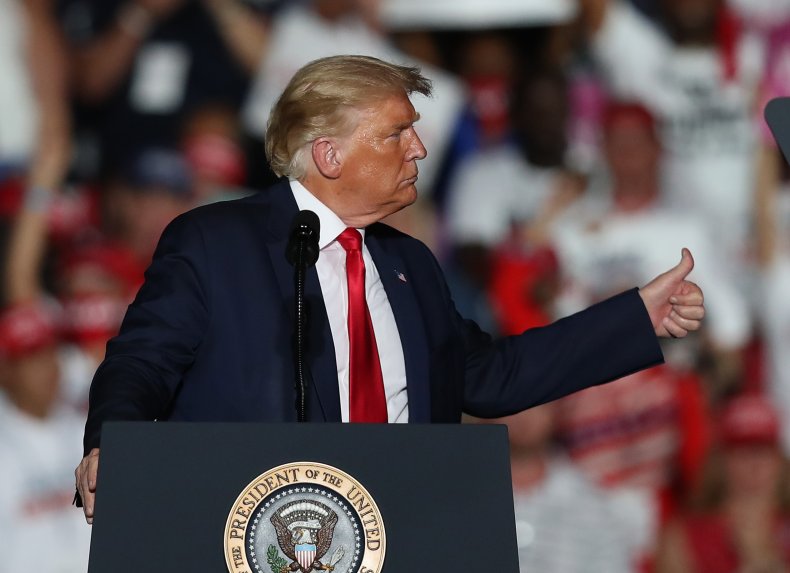 Some observers criticized Trump's medical treatment. Vermont Senator Bernie Sanders tweeted in October that every American should have the same caliber of treatment Trump received.
"I believe every person in America is entitled to the same health care as the President of the United States—with no co-pays, no deductibles and no out-of-pocket expenses," Sanders tweeted. "If government-funded health care is good enough for Trump, it is good enough for all of us as a human right."
Newsweek reached out to the campaign of Democratic presidential nominee Joe Biden for comment.
Trump said he has become immune to COVID-19 and, for the second consecutive night, offered to kiss people in the audience to prove it.
"I'll kiss every guy, man and woman, man and woman," the president said Tuesday, pointing to an individual in the crowd. "Look at that guy, how handsome he is. I'll kiss him. Not with a lot of enjoyment, but that's okay."
Trump also said during Tuesday's event that those who recover from COVID-19 are immune to contracting the virus again. "You're the people I want to say hello to," Trump said to those who had recovered from the coronavirus, "because you're right now immune."
Trump's claims that the medication he was given by doctors made him immune to COVID-19 have come under scrutiny. On Sunday, Trump tweeted that he received a "total and complete sign off" from White House physicians. "That means I can't get it (immune), and can't give it. Very nice to know!!!"
Twitter flagged Trump's tweet for violating its rules "about spreading misleading and potentially harmful information related to COVID-19."