Fan Injured At Lil Uzi Vert Show Addresses Getting 'Head Smashed In'
A fan who was injured by a phone thrown during Lil Uzi Vert's set at Wireless Festival in the U.K. has addressed the situation, telling her TikTok followers that she had her "head smashed in."
The rapper was performing at Wireless Festival's first weekend in London's Crystal Palace (July 1) when the incident occurred, and TikTokker Drilla G took to the platform to say she was hit when the "Money Longer" hitmaker threw a phone from the stage.
A video of the phone being thrown was initially shared by user @angelo15055 and Drilla G responded to show a photo of her bloodied head.
She addressed the incident in a further video, telling her followers: "I am sadly that chick that got her head smashed in by the phone." She mentioned that someone else was also hit, but she did not identify the other individual.
"Yes, there was some damage caused," she explained.
"But the guy got his phone back and everything is being dealt with. For those who are asking why I didn't move out of the way, if you have been to Wireless Festival before you know how packed the crowd is.
"There is no space to move and even if there was, I think the reaction time with the phone landing wouldn't have been enough to actually move out of the way in time. And even if I did, it would have hit someone either way, it wouldn't have hit the floor first."
Drilla G also commented on the original video to say: "The other lad the phone also hit is holding up and the dude who had his phone thrown got it back free of damage. Everything is being dealt with."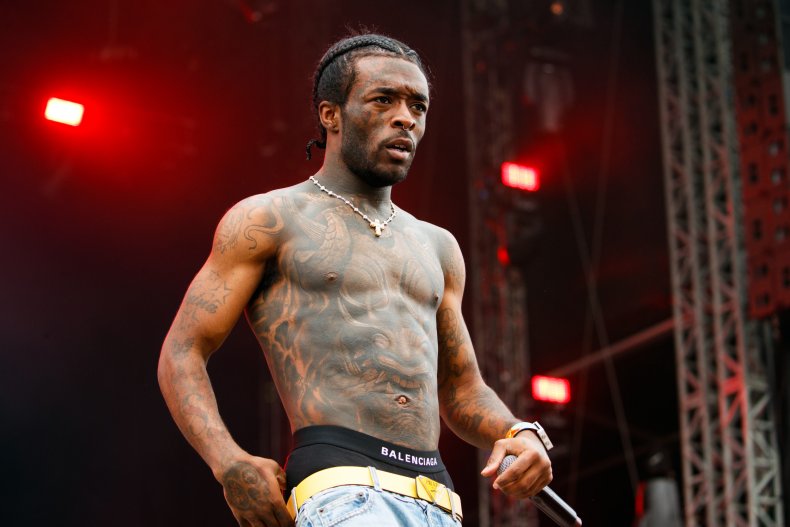 Newsweek has contacted Lil Uzi Vert's representatives for comment.
Lil Uzi Vert was headlining the first weekend of the London festival alongside A$AP Rocky, J. Cole and Tyler, The Creator.
Nicki Minaj, who also played the festival, made headlines when she performed just 40 minutes of her 80 minute set due to a late start and technical difficulties.
The "Monster" rapper asked the crowd at one point: "Can you guys give me 30 seconds?" per Metro.
Disgruntled fans took to Twitter to complain, with one tweeting: "Nicki really has to stop being late. It's unprofessional af. Alot of people are already paying Expensive tickets. Its unfair."
While another added: "Nicki needs to stop this thing of being late. She wants her time to be respected right? She needs to reciprocate that."