Lil Wayne Has 'Great' Meeting with Donald Trump, Says his Platinum Plan Will Give Community 'Real Ownership"
Rapper Lil Wayne tweeted on Thursday that he approved of the White House's Platinum Plan for Black Americans after a positive meeting with President Donald Trump.
Also known as Weezy, Lil Wayne has recorded 12 albums that hit the top ten on the Billboard 200 charts. Lil Wayne has met with Trump, but he has not officially endorsed Trump's re-election campaign. The Platinum Plan promises to provide $500 billion to the Black community.
"Just had a great meeting with @realdonaldtrump @potus besides what he's done so far with criminal reform, the platinum plan is going to give the community real ownership," Lil Wayne tweeted. "He listened to what we had to say today and assured he will and can get it done."
In 2010, Lil Wayne served almost 8 months at the Rikers Island Correctional Facility in New York after a loaded firearm was discovered on his tour bus in 2007.
Weezy is not the only rap artist to speak highly of the Platinum Plan. In October, performer Ice Cube said that he had met with both Republicans and Democrats concerning the plan. Cube implied that the Republicans made changes to the Platinum Plan based on his suggestions.
Joe Biden is expected to carry the Black vote, a traditional stronghold of the Democratic Party, which has been invigorated by nationwide protests against police brutality. However high-profile Trump endorsements from Black celebrities may dent Biden's margins. In recent weeks, Waka Flocka Flame, Asian Da Brat and BlocBoy JB have come out in support of the president.
Newsweek reached out to the Trump re-election campaign for comment.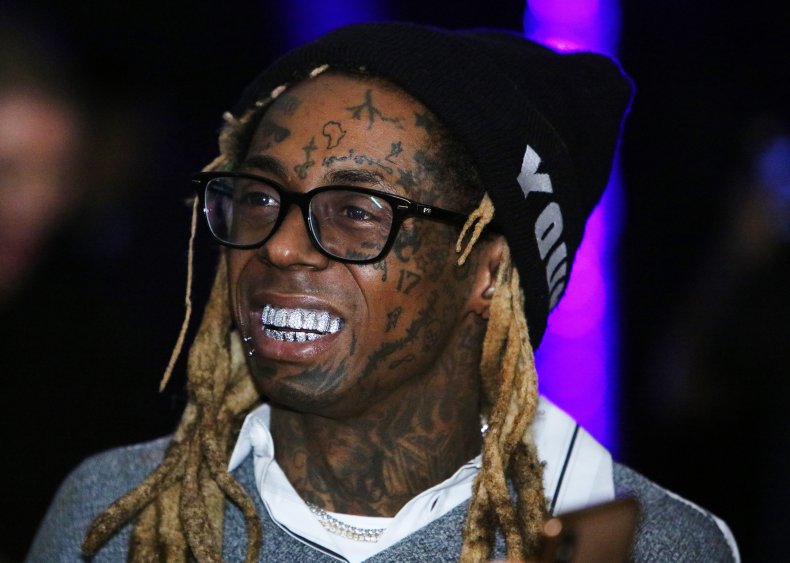 Trump unveiled his Platinum Plan in September during an event in Atlanta, Georgia. His Platinum Plan promises to create 3 million new jobs for Black Americans and 500,000 new Black-owned businesses. If the plan is enacted, Juneteenth would be declared a national holiday and lynching would be labeled a national hate crime.
Cube has authored the Contract with Black America (CWBA) which shares some points with the Platinum Plan. In October, Cube said that Democrats had been "cordial" to him when discussing the CWBA, but indicated they wanted to wait until after the November election to examine it further.
In an October video posted to Twitter, Cube said that after meeting with Republicans, "they moved their agenda a lot because of what we said. They put $500 billion on the table, but who knows what's gonna really happen?"
Trump has often touted his administration's support for Black communities. During the September announcement of the Platinum Plan, Trump said that Democratic presidential nominee Joe Biden should not be asking Black voters for support, but rather "begging for their forgiveness."
In response, Biden's campaign said the Trump administration has been "devastating for Black Americans."
"Trump lied about the danger of COVID-19 and failed to contain the virus and tens of thousands of Black Americans have lost their lives," the campaign added.