From Lil Pump to Waka Flocka, Trump-Supporting Rappers Are Speaking Up
Lil Pump is the latest rapper to publicly support President Donald Trump.
The Florida rapper, whose real name is Gazzy Garcia, took to Instagram on Sunday to give Trump his official endorsement, first posting a photoshopped picture of himself with the president. "THE DAY I MET TRUMP #trump202022020," he captioned the image.
Later in an Instagram Stories video, Pump went on to further share his Republican support and called out Trump's Democratic opponent Vice President Joe Biden's tax proposal, which would significantly tax individuals grossing more than $400,000 per year.
"All I gotta say is Trump 2020 b***h. F**k I look like paying 33 in tax for Biden, b**h a** n***a. F**k sleepy Joe n***a. Trump 2020 b***h," Pump said.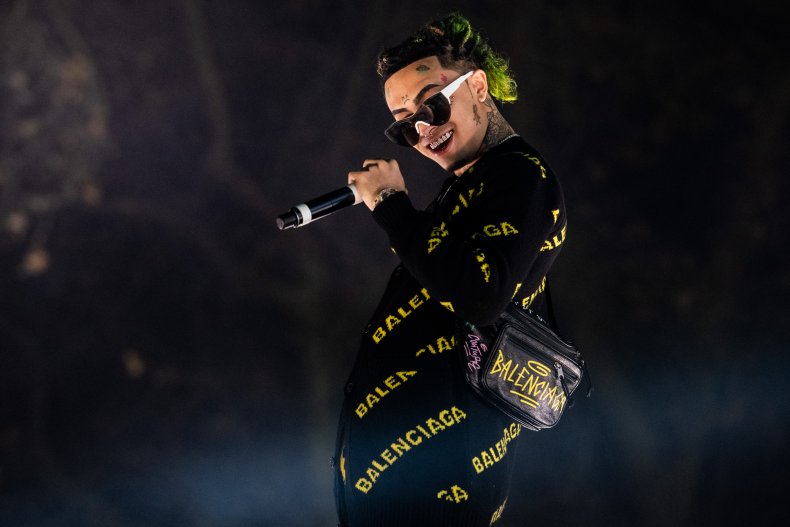 Pump's support of Trump comes following a few rappers who have shocked fans with their endorsements of the real estate mogul's second term in the White House in recent weeks.
Waka Flocka Flame
Fans were in an uproar on Thursday when Atlanta rapper Waka Flocka Flame insinuated that Trump was more fit for the presidency than his predecessor President Barack Obama.
Hip-hop personality and commentator DJ Akademiks shared a clip of a recent speech Obama gave in support of his former VP Biden, and one fan, in the comments section, expressed shock over the fact that there are "people who think Trump is a better President than Obama" along with a clown-face emoji. Flocka replied to the fan's comment and said, "Guess I'm a clown."
50 Cent
Curtis "50 Cent" Jackson sided with Trump after learning of Biden's tax proposal as well. On October 19, he tweeted a screenshot of a Fox News segment which depicted just how heavily people in California, New York City, New York State and New Jersey would be taxed under Biden's plan and wrote: "WHAT THE F*CK! (VOTE ForTRUMP) IM OUT, F*CK NEW YORK The KNICKS never win anyway. I don't care Trump doesn't like black people 62% are you out of ya fucking mind."
Although 50 Cent doubled-down on his disdain for Biden's tax plan the following day, claiming, "Yeah, i don't want to be 20cent. 62% is a very, very, bad idea," in response to White House advisor Katrina Pierson's joke that he could be "20 Cent" under Biden's proposal, 50 Cent has apparently since retracted his endorsement.
The New York native shared a video on Twitter of his ex-girlfriend Chelsea Handler's recent interview with Jimmy Fallon, in which Handler explained that she had spoken with her "favorite ex-boyfriend" about his support of Trump.
"He doesn't want to pay 62 percent of taxes because he doesn't want to go from 50 Cent to 20 Cent," Handler said. "I had to remind him that he was a Black person, so he can't vote for Donald Trump, and that he shouldn't be influencing an entire swath of people who may listen to him because he's worried about his own personal pocketbook."
50 Cent captioned the video, "Fu*k Donald Trump, I never liked him. for all I know he had me set up and had my friend Angel Fernandez killed but that's history. LOL."
Asian Da Brat
The "Pull up" rapper, formerly known as Asian Doll, shared her unsolicited political opinion in a Tweet on October 12, claiming that she would rather vote for Trump than "that other dude." She took to Instagram that same day to further elaborate on her stance, claiming that she'd rather support Trump based on the monetary gains some Black Americans have made under the 45th president's leadership.
"I f**k with the n***a Trump because the n***a giving out a lot of money right now," Brat said in an Instagram Live session.
BlocBoy JB
The Memphis rapper tweeted his support of Trump back in March, claiming that he was "starting to like Trump no cap." He later added that "Trump Might Would've Got My Vote If I Wasn't A Felon."
Kanye West
Although he has since rescinded his support and is actually running his own Independent presidential campaign against Trump, Kanye West was one of the first mainstream rappers to publicly endorse Trump when he infamously told concertgoers that he would have voted for Trump over his rival Hillary Clinton in the 2016 election if he had voted at all.
In the days following Trump's election win, West visited the president-elect at Trump Tower in New York City, in which he discussed "multicultural issues" with Trump.
However, in a July interview with Forbes, West claimed he was officially "taking the red hat off," noting that the Trump administration in recent times was appearing to be "one big mess."