The High School Teacher Who Introduced Lin-Manuel Miranda to Alexander Hamilton
Taking cues from Hamilton, history teachers all over the country are bringing Alexander Hamilton—and songs from the hit Broadway musical that shares his name—into the classroom.
But there is one teacher who was ahead of the trend. Decades ahead.
Irv Steinfink had been teaching in the Social Studies Department at Manhattan's Hunter College High School for more than 25 years when Lin-Manuel Miranda entered his class. It was fall 1996, spring 1997. The future Pulitzer, Emmy, Grammy and Tony Award winner was an 11th grader, and Steinfink was the one who encouraged him to look into this Alexander Hamilton guy.
The origin story for Hamilton, an enormous success with ticket prices sometimes exceeding $800, is that Miranda brought a copy of historian Ron Chernow's Hamilton biography with him on vacation and wrote some songs inspired by the first secretary of the treasury.
But this is the story of how the playwright crossed paths with the long-dead Hamilton much earlier in life.
"Every student chose a research paper to work on for the semester on whatever topic they wish," Steinfink, now 72, explains. It was an AP-level (but not AP) course in American history. One day, he went around the room asking students to share their topics. "When I came to Lin, he hadn't yet a clue, so I told him to think for a while and come to me later. He approached me at my desk and still was blank, so I recommended him the Burr-Hamilton duel. He lit up and agreed and, in the end, submitted a wonderful term paper, A-plus."
Steinfink had a long-dormant interest in the Founding Father. When he was in graduate school years earlier, he'd researched the fatal duel in the New York City archives. "I came across original documents written and signed by Hamilton, and then one record of the city paying the expenses of the funeral brigade and all who tolled the bells that day," Steinfink recalls. "I grieved Hamilton's death in that duel, but he came to be a friend the more I read."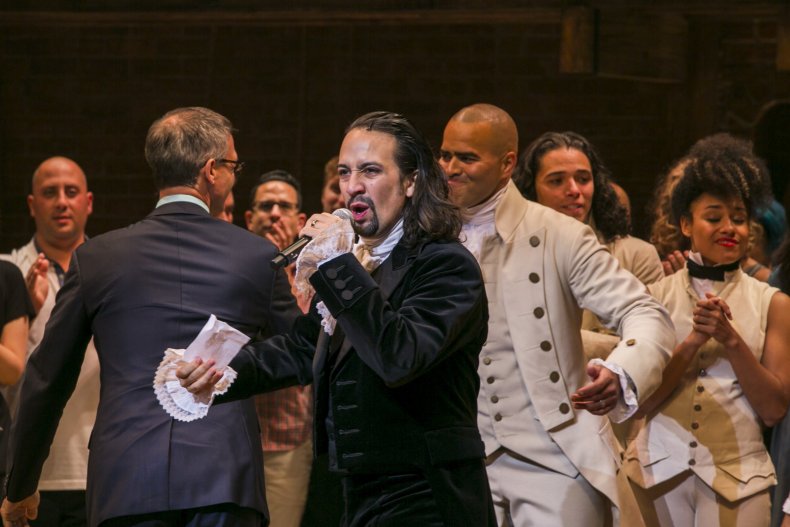 As for Miranda? "He was pretty quiet in class," Steinfink says. The Hamilton star was a teenage hip-hop head who quoted the Fugees in his high school yearbook and directed a school performance of West Side Story, not yet the national celebrity who freestyled with President Barack Obama and paid an emotional tribute to the Orlando, Florida, shooting victims at the Tony Awards. Steinfink had no awareness of his student's musical skills, though Miranda was in his "official class" (a Hunter equivalent of homeroom) for all four years. But he remembers that Miranda's eyes lit up when he told him to study the duel.
Miranda graduated and went on to college at Wesleyan University. Years went by. "Not knowing anything further from Lin, imagine my surprise hearing about Lin's great play some years later," Steinfink says. He read about the accolades, the critical acclaim, the MacArthur Fellowship grant. Then his wife bought him a ticket to the show as a Christmas present.
The verdict? Hamilton is even better than that 11th-grade research paper.
"I was totally enraptured by it," Steinfink says. "I just love how he brought in all of this critical information."
In a January interview with Newsweek, Miranda admitted that he was never much of a social studies student—"I basically lived in the English and communications department"—but he fondly remembered the 11th-grade paper. He said Steinfink is still sending him facts today, while another former social studies teacher reached out to him recently via Twitter.
On one hand, Steinfink might reasonably claim some credit for inspiring the most popular Broadway phenomenon in a generation. On the other, he's modest—it comes with the job—and now retired. He left Hunter and moved to a house in the woods of the Berkshires, where he devotes time to his love of photography. Plus, Miranda isn't the only former student he can boast about. He taught Supreme Court Justice Elena Kagan when she was in high school in the 1970s. (She was "very outgoing, very funny," he says.)
On occasion, Steinfink exchanges Facebook messages with Miranda. But he never gloats.
"I reminded him about the paper that he wrote," he says. "But I did not say, 'Do you remember that I was the one who assigned you to this topic?'"