Lin-Manuel Miranda Apologizes After Accusations of 'Colorism' Plague 'In the Heights'
Lin-Manuel Miranda has publicly apologized over allegations that casting decisions in his recently-released film In the Heights amount to colorism, or prejudice against people with darker skin tones.
The film, which was released last week in theaters and on streaming platform HBO Max, quickly drew online condemnation for lacking Afro-Latinx representation. Many of those critical said that the New York City neighborhood where the film is set, Washington Heights, contains a large population of dark-skinned Afro-Latinx residents, while the film does not. Miranda responded to the criticism on Monday.
"I'm seeing the discussion around Afro-Latino representation in our film this week and it is clear that many in our dark skinned Afro-Latino community don't feel sufficiently represented in it, particularly among the leading roles," Miranda wrote in a statement obtained by Newsweek. "I can hear the hurt and frustration over colorism, of feeling still unseen in the feedback."
"In trying to paint a mosaic of this community, we fell short," he added. "I am truly sorry. I'm learning from the feedback, I thank you for raising it, and I'm listening."
Miranda went on to promise that he would "do better" in future projects while noting that he was "trying to hold space for the incredible pride in the movie we made and be accountable for our shortcomings."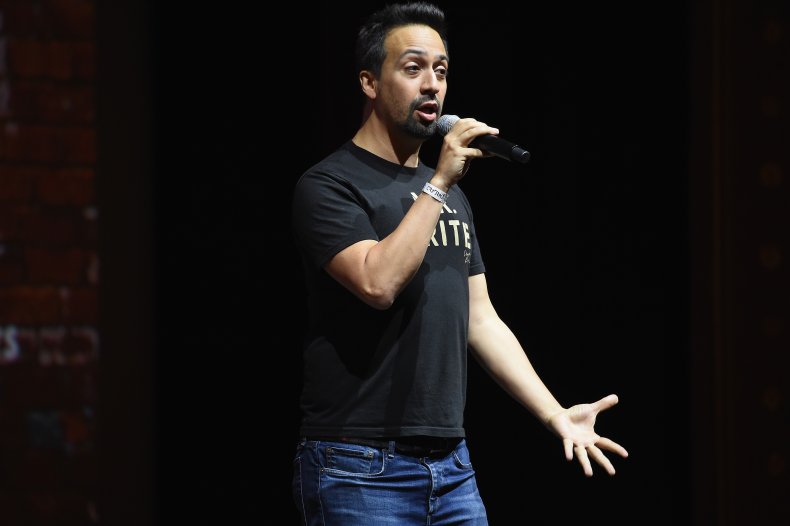 During an interview published by Vox on June 10, Miranda said that it was "unfair to put any kind of undue burden of representation on In the Heights." Miranda explained that he and co-writer Quiara Alegría Hudes had written the musical "from our perspective" and it could not be expected to reflect each one of "millions of stories."
Comments on the controversy from some of the film's cast and crew have resulted in further criticism. During an interview with Felice Leó of The Root, In the Heights star Melissa Barrera insisted that there were "a lot of Afro-Latinos" and "darker-skinned people" who auditioned for roles in the film but producers ultimately decided to cast none in key roles while choosing "just the right people" instead.
In the Heights director Jon M. Chu, also speaking to The Root, said that the production was looking for "people who were best for those roles" during casting. He added that criticism about not casting darker-skinned people was "a really good conversation to have."
Chu faced similar criticisms over the casting of his 2018 film Crazy Rich Asians. Accusations of colorism were made due to casting mixed-race Asian people as Chinese Singaporean characters and for failing to fully reflect the diverse ethnicities of Singapore.
Newsweek reached out to Chu's representative for comment.