Lin-Manuel Miranda's Brain Is a 'Rent' Lyrics Database (and the Source of 'Hamilton')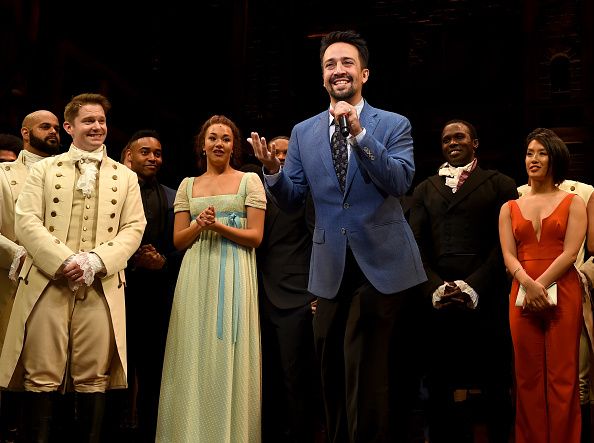 Lin-Manuel Miranda doesn't really need to prove anything more to the world. He's won a Pulitzer, three Tony Awards, two Grammys and an Emmy, and been named a MacArthur "genius." His musical In the Heights opened on Broadway before he had turned 30 and garnered a whopping 13 Tony nominations in 2008. But that achievement almost pales in comparison to his musical Hamilton, which broke the record for most Tony nominations ever (though it did not break the record for wins) and became a sensation on Broadway and beyond the stage as an influence in American culture.
On Tuesday, the Hamilton cast recording reached 1.285 million copies in sales, surpassing sales of the 1990s hit Rent, which closed just a few months after In the Heights premiered. Miranda took to Twitter to share this most recent milestone and, in honor of an iconic musical that came before his, to answer fan questions using only snippets of lyrics from Rent.
The best part of performing live, he told one fan, is "glory beyond the cheap colored lights," using a snippet from "One Song Glory." What did he have for breakfast? "Bustelo, Marlboros, Bananas by the bunch," he said, referencing "Today 4 U." His back-to-school advice, he wrote, is "there's only now, there's only here, give in to love, or live in fear." One fan asked how many books Miranda owns, and he responded, "525,600," an allusion to "Seasons of Love." Another cut to the chase, asking what Miranda's biggest fear is. Circling back to "One Song Glory," he said, "one song before I go..."
After about 20 minutes and more than two dozen questions, Miranda called it a day. "Oh, that was fun! (every lyric is still in my brain the database is intact)," he wrote. "Love you, love Rent, have a lovely afternoon!"
Hamilton's cast recording may be ahead of Rent, but it's at number six among cast albums in Nielsen Music history. To reach the number one spot, it would have to knock out Phantom of the Opera's London cast recording highlights edition, Wicked, Mamma Mia!, Les Misérables and Jersey Boys.
The Hamilton hype, however, still isn't over. The show opened in Chicago in October 2016, a first national tour kicked off in March and a second one is planned to begin in February 2018. Meanwhile, the Broadway production continues to bring in more than $3 million a week. In other words, as the musical accumulates enthusiastic audiences in New York City and all over the country, it's unlikely fans will stop buying that cast recording. Is Miranda getting ready to tweet in Jersey Boys lyrics next? Hamilton is only 155,000 copies away from beating that album, too.