Lincoln Project Accuses Trump's GOP Allies of 'Cowardice' and 'Betrayal'
The Lincoln Project released a new attack advertisement targeting top Republican senators allied with President Donald Trump on Wednesday night, calling on voters to never trust them again.
The group formed by anti-Trump Republican strategists listed off several GOP senators it deemed to have shown "cowardice" under the president's leadership, including Senate Majority Leader Mitch McConnell, Sen. Lindsey Graham of South Carolina and Sen. Martha McSally of Arizona.
It also accused the list of 14 senators of committing "betrayals" in office and choosing Trump over the country at large.
At the opening of the advert, a narrator says: "This circus of incompetence, corruption and cruelty will end. When it does, the women and men in Trump's Republican Party will come you, telling you they can repair the damage he's done, beg you to forget their votes to exonerate Trump from his crimes, ask you to forgive their silence, their cowardice and their betrayals as Trump wrecked this nation.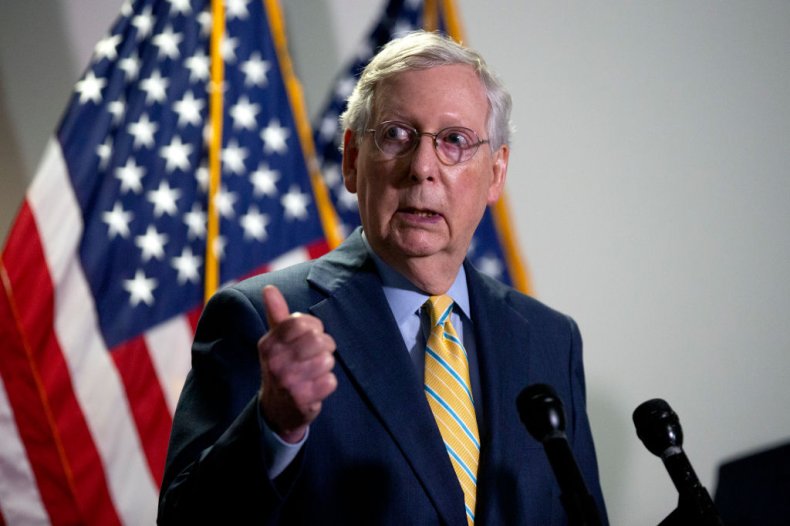 "Every time they had a choice between America and Trump, they chose Trump. Every time they were called to the service of this nation and their sacred oath, they chose Trump."
The ad then called on viewers to remember the names of the senators listed in the ad, and "never, ever trust them again" before making a call for donations.
At the time of writing, a YouTube version of the spot has received more than 720,000 views and roughly 45,000 likes. Posting the spot to Twitter yesterday, the Lincoln Project picked up more than 190,000 likes and 115,000 retweets.
Newsweek has contacted the senators named in this article for comment. The Lincoln Project has also been contacted for further details on its new campaign spot.
The anti-Trump Republican Super PAC launched its latest salvo against the GOP days after partnering with the "La Cucaracha" artist on an attack ad aimed at Latino voters.
Lalo Alcaraz partnered with the group backing Joe Biden for the presidency to produce a political cartoon attacking Trump's handling of the COVID-19 outbreak.
The cartoon published on The Lincoln Project's website and social media pages showed the president holding a rally with two COVID-19 cells under a banner reading: "Viruses for Trump."
A few weeks earlier, The Lincoln Project team ran an attack ad attacking Trump's credentials as a China hawk following the release of his former National Security Adviser's tell-all White House memoir, which claimed the president had asked his Chinese counterpart to help him win re-election.
"Donald Trump is playing pretend again, saying he's the one to take on China," the ad said. "They can't wait."
Lincoln Project Accuses Trump's GOP Allies of 'Cowardice' and 'Betrayal' | U.S.