Lincoln Project, Captain Sully and Vote Vets Drop Blistering Trump Attack Ad Ahead of First Presidential Debate
A new ad released by the Lincoln Project and Vote Vets features Chesley "Sully" Sullenberger, a retired Air Force fighter pilot and airline captain, as he gives a blistering attack of President Donald Trump ahead of the first presidential debate.
The ad, co-sponsored by the two political action committees, shows Sullenberger speaking about his own experiences being a leader, asserting that "Donald Trump has failed us so miserably" in what Sullenberger referred to as "the highest calling of leadership," or "serving a cause greater than oneself."
Sullenberger is best known for piloting U.S. Airways Flight 1549 on January 15, 2009, when it struck a flock of Canadian geese shortly after taking off from New York's LaGuardia Airport. The plane lost power in both engines, and Sullenberger made the decision to pilot the plane to a crash landing on the Hudson River.
All 155 people on board survived and were helped to safety by nearby boats. The National Transportation Safety Board would later rule that Sullenberger made the correct decision in landing on the river instead of attempting to land at a nearby airport, and he has since received numerous accolades.
"Leadership is not just about sitting in the pilot's seat. It's about knowing what you're doing, and taking responsibility for it," Sullenberger says in the political ad. "Being prepared, ready and able to handle anything that might come your way."
A clip of a newscaster speaking about the flight—which is commonly referred to as the "Miracle on the Hudson"—briefly plays, followed by Sullenberger describing how his "whole life prepared me for that moment."
The veteran then assails Trump, urging viewers to "overcome his attacks on our very democracy." Sullenberger mentions the "quarter million Americans" who won't have a voice in this year's election, paying homage to the over 205,000 people who have died from COVID-19 in the U.S., a number Trump has called a "shame" but insisted could have been "2.5 million" if "we didn't do it properly and do it right."
In the ad, Sullenberger calls the deceased "casualties of [Trump's] lethal lies and incompetence," perhaps referencing the fact that Trump was revealed to have knowingly downplayed the threat of coronavirus to the American people.
"I wanted to always play it down," Trump told journalist Bob Woodward. "I still like playing it down...Because I don't want to create a panic."
Sullenberger makes clear in the ad his current mission.
"When you look down at our beautiful, boundless country, you don't see political divisions," he says. "It reminds us of who we are and what we can be, that we are in control of this nation's destiny. All we have to do is vote him out."
The new ad comes hours before Trump and Democratic candidate Joe Biden are set to take the debate stage at Case Western University in Cleveland, Ohio, at 9 p.m. EST.
Newsweek contacted the Trump campaign for comment, but did not hear back in time for publication.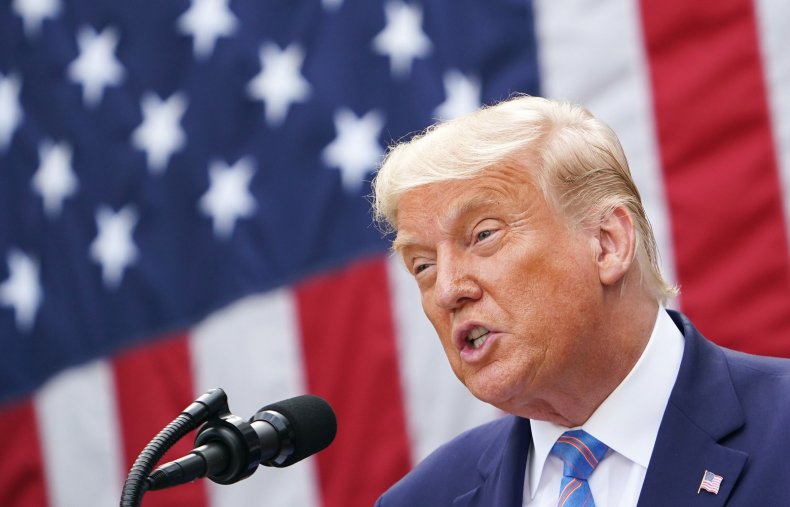 The ad makes no mention of Biden, whom Sullenberger formally endorsed for president in February, joining him at a rally in Henderson, Nevada.
Sullenberger previously had ties to the Republican Party. The Hill reported in October 2009 that the GOP had tried to recruit him to run for a seat in the U.S. House of Representatives in the 2010 elections. Sullenberger would've been up against Democrat Jerry McNerney of California's 11th congressional district, but quickly said that he was not interested.
Days before the 2018 midterm elections, Sullenberger wrote an op-ed in The Washington Post about his leadership on Flight 1549 and how it spoke to the American political climate. The veteran revealed that he was a registered Republican "for the first 85 percent of my adult life," but that he has "always voted as an American."
"To navigate complex challenges, all leaders must take responsibility and have a moral compass grounded in competence, integrity and concern for the greater good," Sullenberger wrote.
He addressed his calm demeanor during the emergency landing, writing: "You get what you project. Whether it is calm and confidence—or fear, anger and hatred—people will respond in kind. Courage can be contagious."
While not naming any names, Sullenberger asserted that many U.S. politicians "do not respect the offices they hold," and that they lack or disregard "a basic knowledge of history, science and leadership; and they act impulsively, worsening a toxic political environment."