Former GOP strategist Steve Schmidt, who co-founded the anti-Trump Lincoln Project, described Representative Louie Gohmert as "America's craziest and dumbest congressman," following the Republican lawmaker's confirmation that he'd tested positive for COVID-19.
Gohmert, 66, tested positive for COVID-19 on Wednesday morning ahead of a scheduled trip to Texas with President Donald Trump. The conservative congressman had publicly opposed masks and previously said he'd only wear a face covering if he tested positive for the virus, despite guidance from the Centers of Disease Control and Prevention (CDC) and the White House Coronavirus Task Force.
"When I say he's America's dumbest and craziest congressman, I'm serious about that," Schmidt, who worked on the political campaigns of Republican lawmakers including former President George W. Bush, the late Senator John McCain of Arizona, and former California Governor Arnold Schwarzenegger, told MSNBC's Joy Reid on Wednesday.
"And he's not competing in an era where there's not a lot of other competition. In the era of crazy, right, this is like Ali, Foreman and Frazier, the big time great heavyweights all fighting each other," the ex-Republican, who now identifies as an independent, said, referring to some of the nation's greatest boxing icons. "So he's got a lot of competition in that space, and this is just a person who, when you think about Louie Gohmert, you think about America's crazy people."
Later tweeting a clip of his remarks about Gohmert, Schmidt wrote: "He is truly nuts."
Newsweek reached out to Gohmert's press secretary for comment, but she did not respond by the time of publication.
In a video statement posted to Twitter, Gohmert said that he was self-quarantining for the time being. "I don't have any of the symptoms that are listed as part of COVID-19, but apparently I have the Wuhan virus," the Republican representative said. He also claimed that he has been wearing a mask "more in the last week or two" than he had been in the "whole last four months." Gohmert then said he couldn't "help but wonder" if wearing the mask had led to the infection.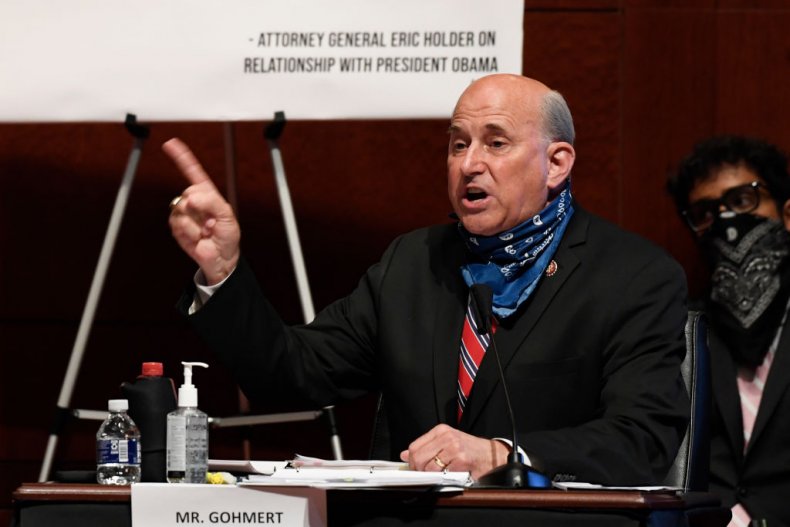 The CDC first recommended Americans wear masks back in April, but there has been significant pushback from pockets of conservatives who believe the face coverings violate their personal freedom. Trump was dismissive of masks for months, but in July described the face coverings as "patriotic," as the novel coronavirus pandemic has surged nationwide. The U.S. continues to be the country with the highest number of deaths and infection, with more than 4.4 million confirmed cases and over 151,000 deaths as of Thursday morning.
Schmidt formed the Lincoln Project at the end of 2019 alongside other former Republicans, including George Conway, the husband of Trump adviser Kellyanne Conway, and former GOP strategist Rick Wilson, among others. The primary goal of the organization is to stop Trump from getting re-elected in November, while also targeting other Republicans loyal to the president.