Lincoln Project Halts Donations, Frees Staff from Confidentiality Agreements Amid Scandals
The Lincoln Project is no longer accepting donations and have released current and former staff from confidentiality agreements after allegations of inappropriate behavior against co-founder John Weaver surfaced last month.
In a statement released Monday, the conservative political action committee (PAC) said that they are probing the claims against Weaver as part of a "comprehensive review" of the company's operations and culture.
"We are committed to creating a positive, diverse, and inclusive workplace environment at The Lincoln Project and inappropriate behavior by anyone associated with the organization will not be tolerated under any circumstances," the statement read. "We have already taken decisive actions to address internal concerns."
"We are releasing staff and former staff from the confidentiality provisions in their employment agreements to discuss their workplace envirornment."
Additionally, the group says they are also working with outside counsel and consultants to "strengthen our corporate governance, finance and operational structure, human resources, and leadership to position The Lincoln Project to further maximize our impact and lean into our important mission advancing democracy."
In recent months, the group has produced a large quantity of ads attacking Trump and his allies for allegedly tarnishing the Republican Party's reputation. Its harsh videos and rebukes of the president attracted donations from his opponents across the political spectrum.
Twitter users noticed that the group's donations page stopped worked from Saturday. The "Make a Donation" link now directs to a page that reads: "Inactive. This form is no longer available."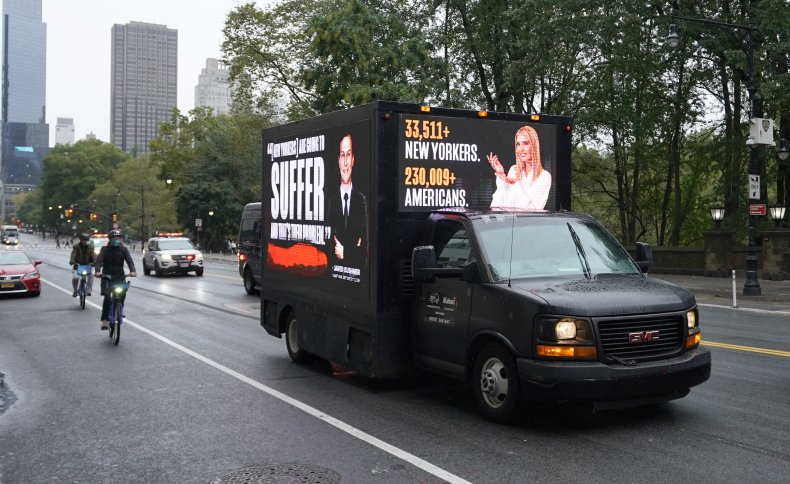 Over 20 men have accused Weaver of sending them unsolicited sexually text messages in allegations that were made public last month.
The organization previously released a statement on January 31 regarding Weaver's behavior, saying that he "led a secret life that was built on a foundation of deception at every level."
"He is a predator, a liar, and an abuser. We extend our deepest sympathies to those who were targeted by his deplorable and predatory behavior," the statement read. "We are disgusted and outraged that someone in a position of power and trust would use it for these means."
The Lincoln Project was founded by former and current Republicans in late 2019 with the goal of preventing former president Donald Trump from serving a second term.
Co-founders Steve Schmidt and Jennifer Horn resigned from the Lincoln Project on Saturday and in January, respectively, The New York Post reported.
Newsweek reached out to the Lincoln Project for further comment. This story will be updated with any response.