The Lincoln Project claimed responsibility for a demonstration outside of Virginia Republican gubernatorial contender Glenn Youngkin's campaign bus that recalled the deadly 2017 Charlottesville rally.
"Today's demonstration was our way of reminding Virginians what happened in Charlottesville four years ago, the Republican Party's embrace of those values, and Glenn Youngkin's failure to condemn it," a statement from Lincoln Project said.
Democratic candidate and former Virginia Governor Terry McAuliffe previously denied any involvement in the Friday incident. Around 10:30 in the morning, five people dressed in white shirts, khaki pants, dark sunglasses and baseball caps carrying tiki torches approached Youngkin's campaign bus.
The August 11, 2017 "Unite the Right" rally started when a group of men dressed similarly carried torches across the University of Virginia campus while chanting, "Jews will not replace us!"
Friday's demonstrators allegedly said, "we're all in for Glenn," and remained in front of the bus during the gubernatorial candidate's campaign event. Youngkin's team called it a publicity stunt.
Claiming responsibility for the stunt, The Lincoln Project criticized Youngkin for saying that former President Donald Trump represents so much of why he's running. The political action committee (PAC), which formed in late 2019, is a group of former and current Republicans who oppose the former president—and Youngkin, in part, for supporting him.
"Youngkin proves it every day by trying to divide Virginians using racial code words like Critical Race Theory and supporting a ban on teaching the works of America's only Black Nobel laureate," said The Lincoln Project.
"The Lincoln Project has run advertisements fighting the hate unleashed in Charlottesville as well as Glenn Youngkin's continued failure to denounce Donald Trump's 'very fine people on both sides.' We will continue to draw this contrast in broadcast videos on our social media platforms, and at Youngkin rallies," the PAC said.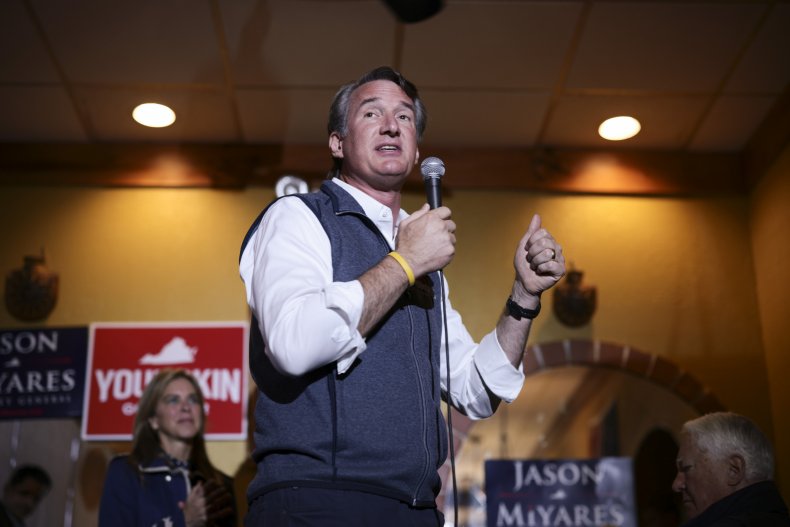 Lauren Windsor, the creator of a political web show about going undercover as conservative activists to entice politicians into saying what they think, said that she worked with The Lincoln Project to coordinate Friday's stunt.
"I join them in the fight to defend our democracy from rightwing extremists and call for Glenn Youngkin to denounce Trump's 'very fine people," she tweeted.
Virginia state legislator Sally Hudson condemned the PAC's demonstration.
"Charlottesville is not a prop. Our community is still reeling from years of trauma — especially this week," she tweeted in reference to a high-profile lawsuit connected to the case that started in court. "Don't come back, @ProjectLincoln. Your stunts aren't welcome here."
The Lincoln Project's demonstration comes as new polling indicates Youngkin may be surging ahead of McAuliffe ahead of Election Day, while other reports state the race remains neck-in-neck.
Newsweek reached out to Youngkin's campaign for comment.