Lincoln Project Takes Aim at Ted Cruz, Kevin McCarthy and Others Who Fed Mob 'Diet of Lies'
In a video released Wednesday, Republican group The Lincoln Project highlighted supporters of former President Donald Trump's claims of voter fraud, including GOP lawmakers and media outlets, that the Project alleged were "responsible" for the riot at the U.S. Capitol in January.
The video was posted online on the second day of the Senate impeachment trial of former President Donald Trump. Trump was impeached in February for inciting violence against the U.S. government. Supporters of Trump, allegedly incited by Trump's oft-repeated baseless claims that voter fraud was a factor in the 2020 presidential election, entered the Capitol building as members of Congress were in the midst of confirming President Joe Biden's win in the Electoral College. Lawmakers hid as the mob went through the Capitol building.
Five people were killed during the riot, including Capitol police officer Brian Sicknick, who died from injuries sustained in the event. Sicknick was allowed to lie in honor in the Capitol rotunda. The Lincoln Project's video said that Sicknick deserved "justice."
"In the Capitol rotunda, the remains of a brave man rest in a place of honor," said a voiceover in the video. "His name was officer Brian Sicknick and he died a hero. Now Brian Sicknick deserves justice. The mob that murdered him and injured other Capitol police officers wasn't mindless. It was sent there."
The video describes the rioters as "a mob fed a diet of lies, conspiracy and propaganda, fantasies of stolen elections," adding that the people who espoused Trump's claims were "trying to escape responsibility."
"Donald Trump is responsible," the video added. "Rudy Giuliani is responsible. Josh Hawley is responsible. Kevin McCarthy, Ted Cruz, Rick Scott, Ron Johnson, Fox News, Newsmax, OANN [One America News Network]. They didn't strike the hundreds of blows that killed Brian Sicknick and hurt his colleagues. But they told the lie that led their followers to act and the blood is on their hands."
When the certification proceedings continued after the riot, Senators Hawley, Cruz and Scott entered formal objections to Biden's electoral vote count. Their motions were voted down.
In a statement sent to Newsweek on Thursday, Scott's Communication Director Chris Hartline dismissed the video.
"We could not care less about the opinion of a Democrat Scam-PAC that viciously fired one of their female founders for the nerve of asking for compensation comparable to her male counterparts, is run by a known Confederate sympathizer, and co-founded by a pedophile whose predatory conduct was covered up by the organization's leadership," Hartline said. "We have more important issues to deal with."
Some lawmakers, including New York Democratic Representative Alexandria Ocasio-Cortez and Washington Democratic Senator Patty Murray, called for Cruz to resign, claiming his actions had supported the rioters. In a January interview with KHOU, Cruz said he was "not remotely" responsible for the riot.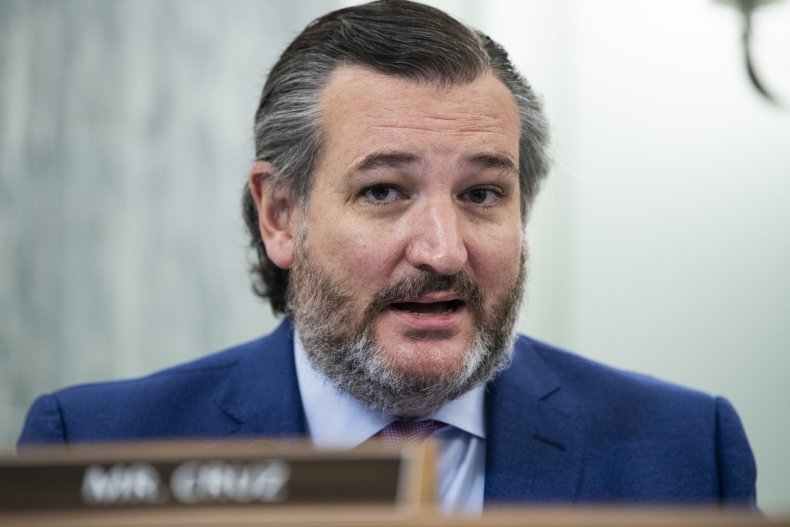 Cruz said his objections to Biden's certification was part of what he and other lawmakers "were elected to do, which is debating matters of great import in the chamber of the United States Senate."
Hawley said in January that claims of him playing a part in inciting the riot was "just a lie."
"That is a lie told by the left-wing mob that now wants to silence me and Ted Cruz and 140 House members and 13 Senators and anybody who would dare to stand up to them," Hawley said in an interview with KMOX.
Wisconsin Senator Ron Johnson, who had backed Trump's claims of voter fraud before the Congressional certification of Biden's win, chose not to issue any formal objections to the electoral vote count. In a January statement, Johnson said that Americans who had lost faith in the electoral process were "not crazy" but "patriots who dearly love America and are alarmed by what they have witnessed over the last four years."
Programs on the conservative news networks Fox News, OANN and Newsmax broadcast numerous stories about Trump's alleged election win. On January 7, Newsmax host Greg Kelly said on his evening program that Biden "stole this election. You know it. I know it. Tens of millions of Americans agree with us."
Giuliani, Trump's personal attorney, was instrumental in filing multiple lawsuits in battleground states alleging election improprieties in an attempt to have the election results reversed. A majority of those lawsuits were dismissed by judges.
Newsweek reached out to Newsmax and the office of Senator Johnson for comment.
Correction 2/11/21: This article originally referred to Senator Patty Murray as Republican. Murray is a member of the Democratic party. Newsweek regrets the error.
Updated 2/11/2021: This article has been updated with a statement from Senator Rick Scott's office.