In Trump's Defense, Ted Cruz Says Many Lawmakers Are 'Idiots' But Constitution Allows It
Texas Republican Senator Ted Cruz said Tuesday that the First Amendment allows people to "be idiots" including some members of the U.S. Congress.
Cruz made the comments during an interview with Fox News host Sean Hannity while defending former President Donald Trump's January remarks at a Stop the Steal rally. After Trump's speech, a crowd of his supporters swarmed the U.S. Capitol building in an attempt to prevent the Congressional certification of President Joe Biden's win in the Electoral College. Trump was impeached in the House for inciting violence against the U.S. Government.
Cruz argued on Tuesday that Trump's words did not meet the proper definition of incitement.
"We have the First Amendment," Cruz said. "We have robust political speech. People are entitled to be idiots and, you know what, in the United States Congress we get a lot of people doing that. We shouldn't be prosecuting people for speaking and we shouldn't be impeaching them."
Cruz said that the article of impeachment fails on its own merits.
"They have charged the president with incitement of violence and insurrection," Cruz said. "Nothing he said meets the legal standard for incitement. Incitement is very clear. Incitement is very deliberately saying 'go, attack.'"
Newsweek reached out to the office of House impeachment manager Representative Jamie Raskin for comment.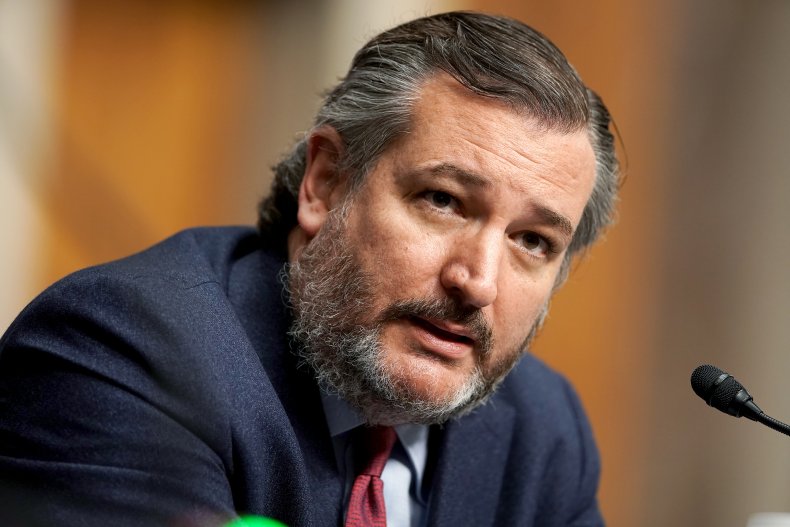 Trump had baselessly claimed that widespread voter fraud had been a factor in Biden's win. He refused to concede the election to Biden, telling the crowd at a Georgia campaign event in January that he had "won the presidential election, we won it big." Attorneys filed multiple lawsuits on behalf of Trump's reelection campaign attempting to overturn the results in some battleground states. Many of those lawsuits were dismissed by judges for lack of tangible evidence.
During his speech to supporters at the January Stop the Steal rally, Trump outlined his fraud claims. Trump said he knew that "everyone here will soon be marching over to the Capitol building to peacefully and patriotically make your voices heard."
Towards the end of his remarks, Trump told the crowd that Republicans "fight like hell. And if you don't fight like hell, you're not going to have a country anymore."
After Trump's rally address, his supporters breached the Capitol building interrupting the confirmation of Biden's win. Lawmakers were forced to go into hiding as rioters made their way through the Capitol. In some cases, rioters were able to access the House floor. Five people were killed as a result of the riot.
In their pre-trial brief, House impeachment managers claimed the impeachment trial had nothing to do with protecting Trump's right to free speech.
"The House did not impeach President Trump because he expressed an unpopular political opinion," the February brief read. "It impeached him because he willfully incited violent insurrection against the government. We live in a nation governed by the rule of law, not mob violence incited by Presidents who cannot accept their own political defeat."
Trump's legal team attempted to argue on Tuesday that impeaching a president who is no longer in office was unconstitutional. By a vote of 56-44, Senators agreed that the trial was constitutional and allowed it to proceed. Although the vote fell mostly along party lines, 6 Republicans voted alongside Democrats to move the trial forward.
If convicted in the Senate trial, Trump would prohibit from holding any public office in the future. The Senate trial is expected to continue until at least Sunday.