Ted Cruz Lashes out at Billboards Demanding His Resignation
GOP Senator Ted Cruz has hit back at the Republican group funding a billboard campaign in his state that has linked him to the riots in the U.S. Capitol and demanded his resignation.
Billboards saying "You lied about the election. The Capitol was attacked. Sen. Cruz: Resign." have appeared in San Antonio, Dallas-Fort Worth, Corpus Christi and Austin, chron.com reported.
The signage is part of a campaign by the Republican Accountability Project (RAP) comprised of former GOP officials who formed in the wake of the Capitol riots on January 6.
Former President Donald Trump faces an impeachment trial in the Senate on a charge of inciting his supporters to storm the building.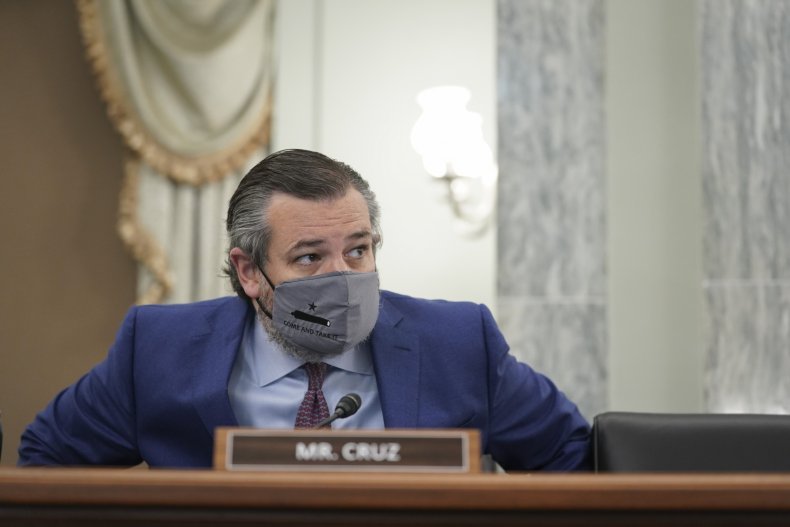 But the RAP has also blamed GOP lawmakers who backed Trump's dispute of the election results as causing the violence in Washington, D.C. in which five people died.
The group has said that another 20 anti-Cruz billboards will go up in the Lone Star State in the coming days.
But Cruz's office has hit back at the campaign. In a media statement provided to Newsweek on Thursday, Cruz's spokesperson, Maria Jeffrey Reynolds, said: "The left—and some grifters on the right—are consumed by partisan anger and rage. Sen. Cruz will continue to work for 29 million Texans in the Senate."
Although the PAC links Cruz's denial of the election results with the riots, the Texas senator did condemn the actions of demonstrators who broke into the Capitol building as "unacceptable."
"Even when passions run high. Anyone engaged in violence—especially against law enforcement—should be fully prosecuted," Cruz tweeted on January 6.
In its $1 million billboard campaign, the RAP is targeting other GOP lawmakers who voted after the Capitol insurrection to reject the Electoral College vote confirming President Joe Biden won the election.
They include Missouri Senator Josh Hawley (R-MO), Florida representative Matt Gaetz, and Georgia congresswoman Marjorie Taylor Greene, who is under fire for her support of conspiracy theories and faces calls from the Democratic Party for her to be stripped of committee duties.
"The goal is to not allow these officials to memory-hole the fact that they pushed this lie, which incited the attack on the Capitol," Sarah Longwell, RAP executive director told Politico last month.
The RAP is part of the Defending Democracy Together group. It is engaging in a $50 million campaign to back GOP lawmakers who vote to impeach and convict Trump in the House and Senate and to target Republicans who still back Trump.
Newsweek has contacted the Republican Accountability Project for comment.
The graphic below provided by Statista shows the support for new witnesses at Trump's impeachment trial.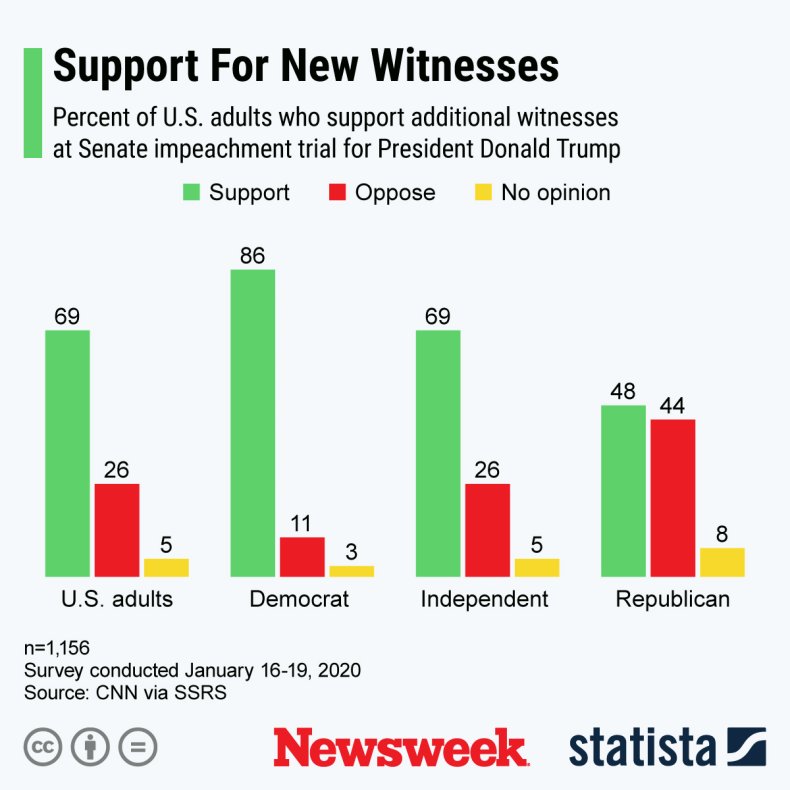 This story has been updated to include a statement to Newsweek from Sen. Cruz's office.