Lincoln Project Responds to Tucker Carlson's Rudy Giuliani Raid Tip Off Claim
The Lincoln Project and its founders have hit out at Fox News host Tucker Carlson after he claimed federal agents had sent details of a planned raid on Rudy Giuliani's home in New York City to the anti-Trump campaign group.
In a monologue on Tucker Carlson Tonight on Wednesday, Carlson said agents had seized all of Giuliani's digital records and personal devices. He then took aim at a tweet from the Lincoln Project which hinted that the campaign was aware of the planned raid beforehand.
"The Feds notified their allies at the Democratic Party's campaign operation the Lincoln Project," Carlson said. "The Lincoln Project then bragged online that they knew this raid was coming."
The Lincoln Project identifies as a group of Republicans and ex-Republicans who split with the party over the Trump administration's politics.
Reacting to the monologue, The Lincoln Project tweeted: "Nightly reminder that this guy is #TuckingCrazy." A video mash up of the Fox News host laughing was attached to the tweet.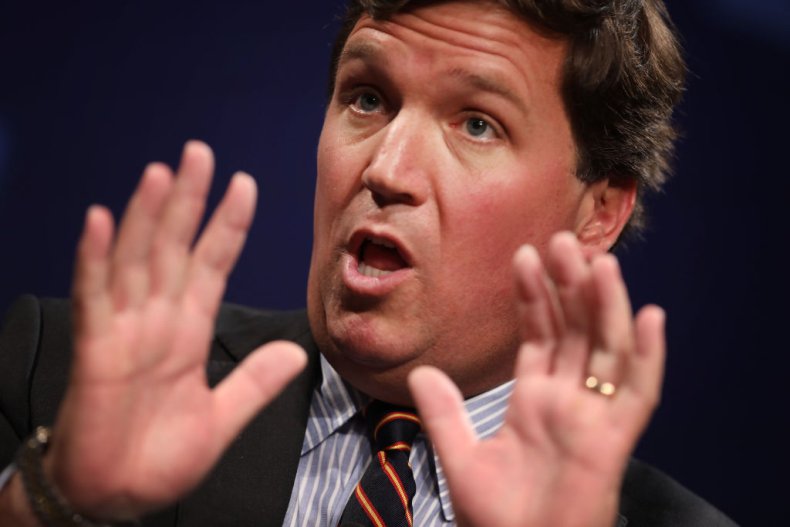 "Tucker, the chair is against the wall. The chair is against the wall," Rick Wilson, a campaign co-founder, tweeted. "Also, if you travel, make it a non- extradition country."
His colleague Fred Wellman, the Lincoln Project's executive director, added: "I don't even have a lease for living rent free in Tucker's head." He posted a clip of Carlson's remarks along with his comment.
At the weekend, the Lincoln Project said it had heard from sources that "something BIG" was going to happen on Wednesday. After the news broke of federal investigators raiding Giuliani's New York City apartment yesterday, the campaign simply tweeted: "Told you..."
Newsweek has contacted the Lincoln Project for further comment.
Federal agents searched the Manhattan apartment of former President Donald Trump's attorney on Wednesday thanks to a search warrant blocked for almost two years under the last administration.
The New York Times first reported that investigators seized several electronic devices as part of their investigation into Giuliani's alleged lobbying ties to Ukrainian officials. The warrant and the raid on Giuliani's home does not confirm that the former New York City mayor has committed wrongdoing.
Releasing a statement after the raid, Giuliani's attorney Robert J. Costello said his client denied wrongdoing, and accused federal officials of "running roughshod" over the constitutional rights of anyone defending former President Trump.
He also claimed that his client was the victim of a "corrupt double standard" as he attempted to divert attention to the president's eldest son, Hunter Biden, and the outstanding probe into his business dealings.