Lincoln Project's George Conway Denies Knowing John Weaver Well Following Harassment Allegations
Lincoln Project's George Conway denied knowing co-founder John Weaver "very well" after a series of online sexual harassment allegations against Weaver re-emerged over the weekend.
During a Monday interview, MSNBC's Mika Brzezinski told Conway she would be "remiss" to not ask about the news surrounding Weaver.
"It's terrible and awful and appalling and unfathomable," Conway replied. "I didn't know John very well. I frankly only spoke to him a couple times on the phone early on in the Lincoln Project."
Conway, who appeared to be at a loss for words, said, "I don't even know what to say. It's terrible. It leaves me speechless, frankly."
On Sunday, The New York Times published a report based on interviews with 21 men who accused Weaver of sexually harassing them online, often in exchange for the promise of helping them find work in politics.
In addition to co-founding the Lincoln Project, an anti-Trump Republican group known for its attack ad videos, Weaver previously worked on the presidential campaigns for the late Senator John McCain and former Ohio Governor John Kasich.
On Sunday the Lincoln Project issued a statement in response to the news, disavowing the Republican strategist:
John Weaver led a secret life that was built on a foundation of deception at every level. He is a predator, a liar, and an abuser. We extend our deepest sympathies to those who were targeted by his deplorable and predator behavior. We are disgusted and outraged that someone in a position of power and trust would use it for these means.

"The totality of his deceptions are beyond anything any of us could have imagined and we are absolutely shocked and sickened by it. Like so many, we have been betrayed and deceived by John Weaver. We are grateful beyond words that at no time was John Weaver in the physical presence of any member of The Lincoln Project.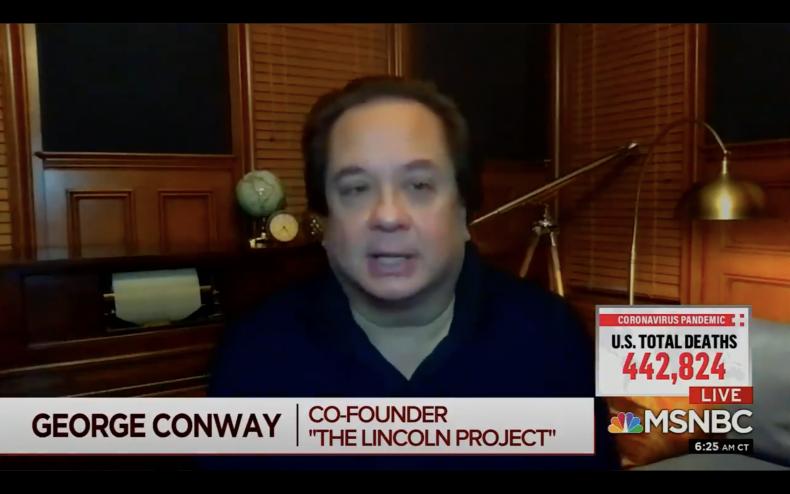 Some observers, like Ryan Girdusky, who broke the story in The American Conservative early last month, were quick to call out the statements from Weaver's former colleagues.
Girdusky called the statement "an absolute lie" over Twitter, writing, "Members did know. Young men approached them about the accusations. Members knew I was writing the story and warned John Weaver."
In another tweet, he said, "Several young men told me that they spoke to several members, friends told me other knew about my article and were worried... they knew and did nothing. #Complicit"
The report in the Times marks the third publication to report on the allegations against Weaver in less than a month.
Two weeks ago, Weaver acknowledged the "inappropriate" messages and addressed his sexuality in a statement sent to Axios.
"The truth is that I'm gay. And that I have a wife and two kids who I love. My inability to reconcile those two truths has led to this agonizing place," Weaver said. "To the men I made uncomfortable through my messages that I viewed as consensual mutual conversations at the time: I am truly sorry. They were inappropriate and it was because of my failings that this discomfort was brought on you."
Newsweek reached out to the Lincoln Project for further comment but did not hear back before publication.