Linda Thomas-Greenfield, President Joe Biden's pick for United Nations representative, told a Senate committee on Wednesday that she regretted a speech in which she appeared to praise China's initiatives in Africa without mentioning its predatory loan practices and human rights abuses.
Thomas-Greenfield, a career diplomat who joined the service in 1982, was pressed by the Senate Foreign Relations Committee for her plans to counter Beijing's influence in the U.N. and to explain the speech she later described as "a huge mistake."
The address took place in the now shuttered Confucius Institute at Savannah State University, Georgia, in 2019. The veteran diplomat spoke positively about China's $1 trillion investment in Africa and rejected the notion that the United States and China were in a "new Cold War."
This was raised as an area of concern by, among others, Republican senators Jim Risch of Idaho and Marco Rubio of Florida. Ted Cruz, GOP senator for Texas, grilled Thomas-Greenfield over her failure to directly address China's human rights violations or controversial loan practices often referred to as "debt diplomacy."
Thomas-Greenfield said she had accepted the invitation to speak at Savannah State, a historically Black college, in order to encourage Black students to pursue a career in the foreign service.
She was aware of the Confucius Institute's practices, but said she was "frankly alarmed" when she saw with her own eyes its reach into high schools and elementary classrooms. Thomas-Greenfield said the language and culture centers were "going after those in need" in Georgia's Black community, a practice similar to what she had witnessed in Africa.
"I strongly support Congress' crackdown on the Confucius Institute," she had said earlier in the confirmation hearing.
Confucius Institutes, which are funded by the Chinese government, are embedded in dozens of colleges across the U.S. They came under scrutiny during the Trump administration over allegations of espionage, propaganda and censorship of sensitive topics.
The U.S. government designated them "foreign missions" last year, leading numerous universities, including Savannah State, to close or end their partnerships with the centers.
Thomas-Greenfield told the committee she regretted having had her name associated with the Confucius Institute. "This is one speech in my 35-year career and I do regret that speech," she said.
She asked the senators to look instead at her track record in the diplomatic service and especially the times she raised concerns about China's practices in developing nations in Africa.
"I am not at all naive about what the Chinese are doing and I have called them out on a regular basis, including today," she told Senator Cruz.
Thomas-Greenfield said she had a "very strong relationship" across the African continent, which she hoped to use to "push back on China's self-interested and parasitic development goals in Africa."
President Biden's choice to fill the U.N. role said she had "no doubts" that China was a "strategic adversary." Beijing's actions threatened U.S. security and values, she told the committee, adding: "They're a threat across the globe."
Thomas-Greenfield agreed with senators who lamented the Trump administration's withdrawal from international bodies such as the World Health Organization and the U.N. Human Rights Council.
"We know China is working across the U.N. system to drive an authoritarian agenda that stands in opposition to the founding values of the institution—American values," she said at the hearing. "Their success depends on our continued withdrawal. That will not happen on my watch."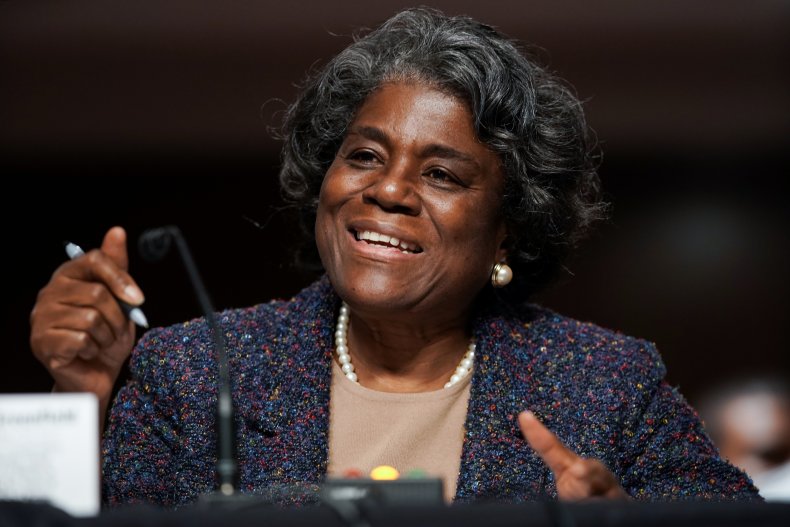 Her answers in the Senate hearing highlighted seemingly bipartisan concerns about China in Congress.
Thomas-Greenfield expressed agreement with the Trump administration's declaration of Chinese policies in Xinjiang as "genocide," although she had reservations about the procedures followed during the designation.
Human rights groups and U.S. government reports say China has detained more than 1 million Uighur Muslims and other ethnic minorities in "re-education" camps in the northwest of the country.
Thomas-Greenfield called the policy "horrendous," saying: "We have to recognize it for what it is."
Biden, she said, would consider "every diplomatic tool in the toolkit" in response to unacceptable practices by China. Tougher tactics would include sanctions and "flexing our muscles," she said.
She told Ron Johnson, the Republican senator from Wisconsin, that, in her view, it would also mean the continued sale of defensive arms to Taiwan in order to deter Beijing.
However, she said the intention would not be to encourage or support conflict, but rather "to encourage the Chinese to change their behavior."
If confirmed, Thomas-Greenfield would complete a roster of key officials in the State, Treasury and Defense departments who have all expressed concerns about China's practices in policy, trade and technology.
Other notable Biden advisers include the president's "Asia czar" Kurt Campbell as Indo-Pacific coordinator, as well as Ely Ratner as the Pentagon's top China expert.
In New York, Thomas-Greenfield would be replacing another outspoken China critic in Kelly Craft.
Craft publicly condemned China's election to the U.N. Human Rights Council last year and was also critical of its use of the military to intimidate Taiwan. She ended up on Beijing's sanctions list with 27 other Trump officials, including Secretary of State Mike Pompeo.
During her Senate hearing, Thomas-Greenfield said she would push for reforms in the U.N. and Security Council in order to counter abuses of the platform by China and Russia.