Lindsay Graham Makes Exasperated Plea To Colleagues To End It and Certify the Vote: 'It Is Over'
In his speech during Wednesday's congressional vote to approve the Electoral College's vote in favor of President-elect Joe Biden, Republican South Carolina Senator Lindsay Graham discouraged his Republican colleagues from voting against Biden's election.
In the weeks leading up to the January 6 congressional approval, numerous Republican senators pledged to object to the Electoral College's vote, making various unsubstantiated claims of election fraud repeatedly pushed by President Donald Trump, his re-election campaign and other Republican officials.
"All I can say is, count me out. Enough is enough.... It is over," Graham said in his Senate-floor speech. "I prayed Joe Biden would lose. He won. He's the legitimate president of the United States. Joe Biden and Kamala Harris are lawfully elected and will become the president and vice president of the United States on January 20th."
Elsewhere in his speech, Graham objected to Republican efforts to establish a commission to investigate fraud in the 2020 presidential elections.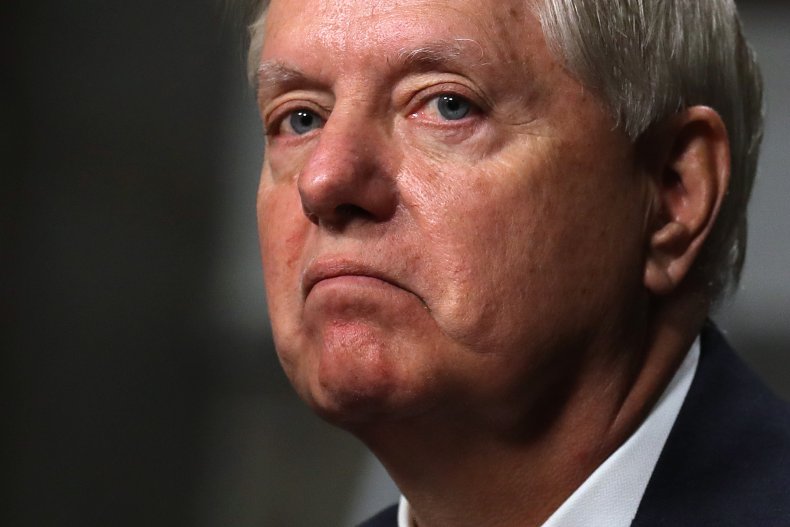 "If you're looking for a way to convince people, there was no fraud, having a commission chosen by Nancy Pelosi, Mitch McConnell and John Roberts is not going to get you to where you want to go—it ain't gonna work," he said, referencing the Democratic House Speaker from California, the Senate Majority Leader from Kentucky and the Supreme Court Justice.
"It's not going to do any good, it's gonna delay, and it gives credibility to a dark chapter of our history. That's why I'm not with you," he said, adding, "I just think is a uniquely bad idea to delay this election."
"Trump," he continued, addressing the president directly, "we've had a hell of a journey. I hate it to end this way. Oh my God, I hate it. From my point of view, he's been a consequential president. But today... all I can say is, count me out. Enough is enough. I've tried to be helpful."
In a vote on whether to block Arizona's electoral votes from counting, six Senate Republicans voted to block them, causing the objection to fail in a 6-93 vote.
The Republicans who voted against certifying Arizona's electoral votes were Senators Ted Cruz of Texas, Josh Hawley of Missouri, Cindy Hyde-Smith of Mississippi, John Kennedy of Louisiana, Roger Marshall of Kansas and Tommy Tuberville of Alabama.
Seven other Senate Republicans who had previously pledged to object to the Electoral College's vote changed their minds after seeing pro-Trump rioters storm the congressional building in an attempt to overturn the election in Trump's favor.
Newsweek contacted Graham's office for comment.