Lindsey Graham Asks for Campaign Donations on Fox News as New Poll Shows Him Narrowly Trailing Jaime Harrison
Senator Lindsey Graham, a South Carolina Republican, asked Fox News viewers to contribute to his campaign after new polling shows him narrowly trailing his Democratic challenger Jaime Harrison.
The Senate race in South Carolina has been rated a "toss-up" by the Cook Political Report. Several recent polls have shown Harrison ahead or a tied race, while others have shown Graham in the lead. But Graham, a Trump loyalist, urged conservatives to back his campaign with their pocketbooks on Thursday.
"My opponent raised $2.3 million per day after Justice [Ruth Bader] Ginsburg died," Graham lamented during an interview with Fox & Friends. But he asserted that he would get conservative Judge Amy Coney Barrett, who was nominated by Trump just over a week after Ginsburg's death on September 18, confirmed to the Supreme Court.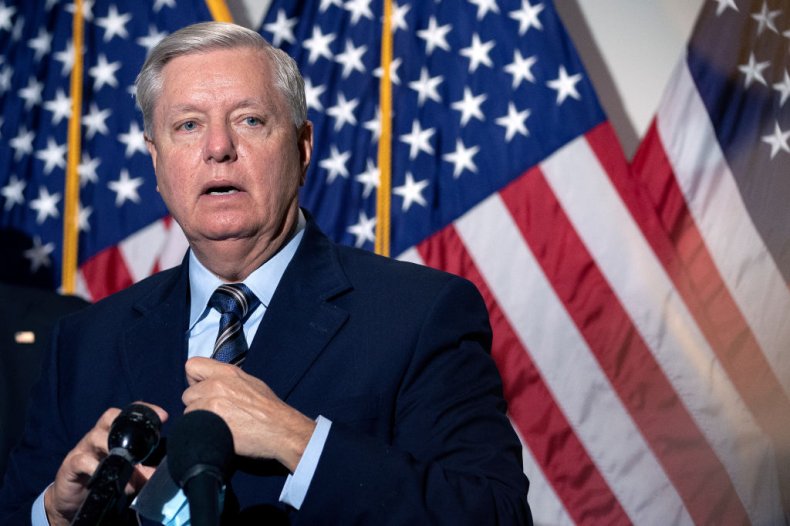 "I'm gonna get Judge Barrett on the court. I have her back. To the people listening out there, have my back," he continued. "Lindsey Graham dot com. Help me get my message out. I'm gonna be stuck up here getting this nomination through. Help me get my message out. Lindsey Graham dot com," the GOP senator said.
"A little bit goes a long way, so if you can help me, I appreciate it," Graham said. "I'm not going to let these people win."
Newsweek reached out to Harrison's campaign for comment, but it did not immediately respond.
A new poll conducted by Morning Consult from October 11 to 20 shows Graham behind Harrison by 2 percentage points. The Democratic contender, who previously chaired the South Carolina Democratic Party, was backed by 47 percent of likely voters while the Republican incumbent was supported by just 45 percent. But a separate survey carried out by The New York Times/Siena College from October 9 to 14 shows Graham ahead by 6 percentage points—with the support of 46 percent of likely voters as opposed to just 40 percent supporting Harrison.
Harrison has significantly out-fundraised Graham in the race. The Democratic candidate smashed the previous Senate fundraising record, by raking in $57 million during the final full quarter of the campaign. The previous record was set by Democrat Beto O'Rourke in his Texas Senate race against GOP incumbent Senate Ted Cruz in 2018. Although O'Rourke brought in an impressive $38 million in the final quarter, he was unsuccessful and did not unseat Cruz.
As Graham noted, he has been instrumental in pushing through Barrett's confirmation as the chair of the Senate Judiciary Committee, in an effort to seat her on the Supreme Court prior to Election Day. Harrison has criticized Graham as a hypocrite who can't be trusted, pointing to his 2016 opposition to former President Barack Obama's Supreme Court nominee Merrick Garland. At that time, Republicans argued that it was inappropriate to confirm a new justice to the top court in an election year—even though it was some eight months until Election Day when Obama made the nomination.
"Senator, you said, 'Use my words against me,'" Harrison said during a debate with Graham earlier this month, pointing to remarks made by Graham in 2016 when he was asked about the issue. "Your promise was that no judicial nominee should be approved during the last year of an election.… How good is your word?" the Democrat asked.
Correction October 22, 2020 at 12:25 p.m.: The headline of this article has been updated. The original headline misspelled Jaime Harrison's first name.