'How Good Is Your Word?': S.C. Senate Candidate Jaime Harrison Calls Out Lindsey Graham on His Previous SCOTUS Promise
Democratic Senate candidate Jaime Harrison called into question the honesty of incumbent Republican Senator Lindsey Graham of South Carolina during their first debate on Saturday evening, addressing his opponent over his changing position on confirming a Supreme Court justice in a presidential election year.
Graham, a close ally of President Donald Trump who chairs the Senate Judiciary Committee, is in a close race with Harrison, which has garnered national attention and raked in record-breaking campaign contributions. During the debate, Harrison highlighted how Graham had joined other Republican lawmakers in refusing to consider former President Barack Obama's Supreme Court nominee Merrick Garland ahead of the 2016 election, but now is pushing to confirm Trump's nominee Amy Coney Barrett ahead of the November 3 election.
"Senator, you said 'use my words against me,'" the Democratic challenger said, pointing to remarks made by Graham in 2016 when he was asked about the issue. "Your promise was that no judicial nominee should be approved during the last year of an election. ... How good is your word?" he asked.
Graham responded by saying that he had voted in favor of Obama's nominees Supreme Court justices Sonia Sotomayor and Elena Kagan. He also said that Trump as the president has "the constitutional authority" to nominate Barrett, saying she was "going to be confirmed."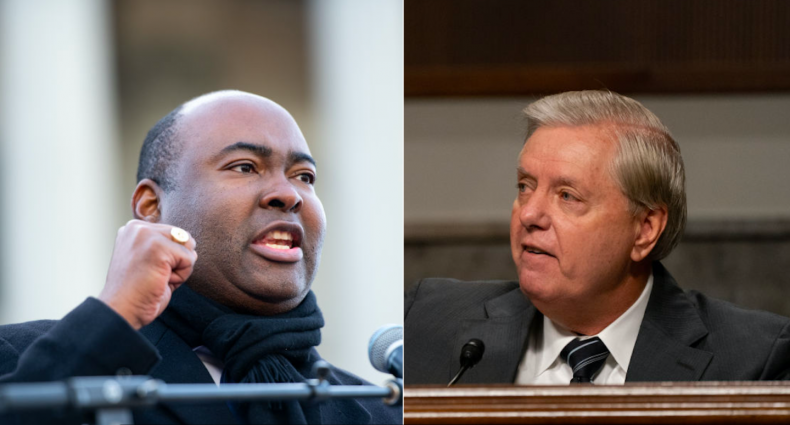 Guy King, communications director for Harrison's campaign, told Newsweek in a statement that the Democrat had "offered his bold vision to bring principled, pragmatic leadership back to this U.S. Senate seat" during the debate. King said Harrison "will lead every day with South Carolina values to protect healthcare access, expand broadband internet, and rebuild our rural communities."
"Lindsey's performance, on the other hand, made only one thing clear: After 25 years in Washington, he has changed into someone more worried about political games than about solving urgent problems facing the state. Throughout the debate, Senator Graham seemed to attack an imaginary opponent by routinely criticizing Jaime for positions he doesn't hold because he's afraid to debate Jaime on his record. Lindsey should quit these hollow attacks and follow what Jaime has said from the beginning of this campaign: This race is not about right versus left. It's about right versus wrong," he said.
Newsweek reached out to Graham's press secretary for further comment, but did not receive a response by the time of publication. In a video posted to Twitter after the debate, Graham expressed confidence that he had "convinced people" that Harrison was "a real Democrat" who would join the party's leadership in Washington, D.C. to "transform the country into something you won't recognize."
"People in South Carolina are not going to sign up for this radical agenda. The liberals are trying to take me out. One hundred million dollars is coming in to beat me. I need your help. Five or ten bucks goes a long way," he said. "And Amy Barrett's going on the Court," the senator insisted.
In March 2016, Obama nominated Garland to the Supreme Court about a month after the death of Justice Antonin Scalia. But GOP Senate Majority Leader Mitch McConnell of Kentucky refused to hold hearings on the justice, citing the proximity to the election which was still about eight months away. Graham vocally supported that position at the time.
Democrats have called Republicans hypocritical in the wake of the September 18 death of Supreme Court Justice Ruth Bader Ginsburg. Hours after her passing, McConnell announced that the Senate would move forward rapidly with whoever Trump nominated. Just over a week later, Trump formally nominated Barrett, a deeply conservative judge who liberals fear could vote to overturn the Affordable Care Act and side against reproductive rights. Meanwhile, the election will be held in about a month.
"I want you to use my words against me. If there's a Republican president in 2016 and a vacancy occurs in the last year of the first term, you can say Lindsey Graham said, 'Let's let the next president, whoever it might be, make that nomination,'" Graham said in 2016 after Scalia's death. "And you could use my words against me and you'd be absolutely right."
As a result, Democrats and Harrison have been doing just that—using the Republican senator's words against him. But Graham has dismissed the criticism, claiming that Democrats would change their position if the situation were reversed. "I am certain if the shoe were on the other foot," Graham wrote last month to Democrats on the judiciary panel, "you would do the same."
The race between Graham and Harrison in South Carolina looks very close, with two September polls carried out by Quinnipiac showing the candidates tied, each with 48 percent support. Another poll by CBS/YouGov showed the incumbent Republican leading by just 1 percentage points, with 45 percent support compared to his Democratic challenger's 44 percent.