Mitt Romney Posts Photo With Amy Coney Barrett, Touting Her 'Impressive Background and Judicial Philosophy'
Senator Mitt Romney posted a photo of himself meeting with President Donald Trump's Supreme Court nominee, Amy Coney Barrett, praising her "impressive" credentials.
Following the September 18 death of liberal icon Ruth Bader Ginsburg, President Donald Trump and Republicans have moved quickly to fill the vacancy left on the nine-member court. On Saturday, Trump nominated Barrett, a deeply conservative judge whom Democrats fear would vote to overturn abortion rights and the Affordable Care Act.
"Enjoyed meeting with Judge Amy Coney Barrett, the President's nominee to serve as Associate Justice on the Supreme Court. We had an informative, wide-ranging discussion about her impressive background and judicial philosophy. Look forward to her upcoming @SenJudiciary testimony," Romney tweeted Wednesday, along with an image of himself and the judge.
The Utah Republican's press secretary emailed Newsweek a transcript of remarks the senator made to reporters following the meeting.
"It was a very far-reaching and interesting discussion of a whole series of matters related to legal philosophy, judicial temperament and in some cases points of law. Clearly, those matters that may come before the court are off the table in terms of being able to discuss them," the senator said. "But it was a very excellent opportunity for me to understand the judicial philosophy of Judge Barrett, and I look forward to hearing the discussion at the [Judiciary Committee] and then reaching a conclusion."
Democrats have been highly critical of Republicans' plans to move forward with Barrett's nomination so close to the presidential election, which takes place in just over a month. In 2016, Senate Majority Leader Mitch McConnell, a Kentucky Republican, was backed by GOP senators as he refused to hold hearings for President Barack Obama's nominee to the Supreme Court, Merrick Garland.
At the time, McConnell and Republicans cited the upcoming election—which was nearly eight months away. They argued that the next president should be allowed to nominate a new Supreme Court judge. Now, most Republican senators have flipped their position, saying it's because a president of their own party, which controls the Senate, has nominated a judge to the top court, even though the presidential election is much closer this time. Romney did not serve in the Senate in 2016, as he was elected in 2018.
Some had hoped that Romney would oppose his GOP colleagues and side with the Democrats on waiting until after the November 3 election. The senator from Utah has clashed frequently with the president and was the only Republican to join Democratic senators in voting to remove Trump from office in February after he was impeached by the House of Representatives. But Romney confirmed last week that he would support moving forward with the confirmation process for Trump's nominee.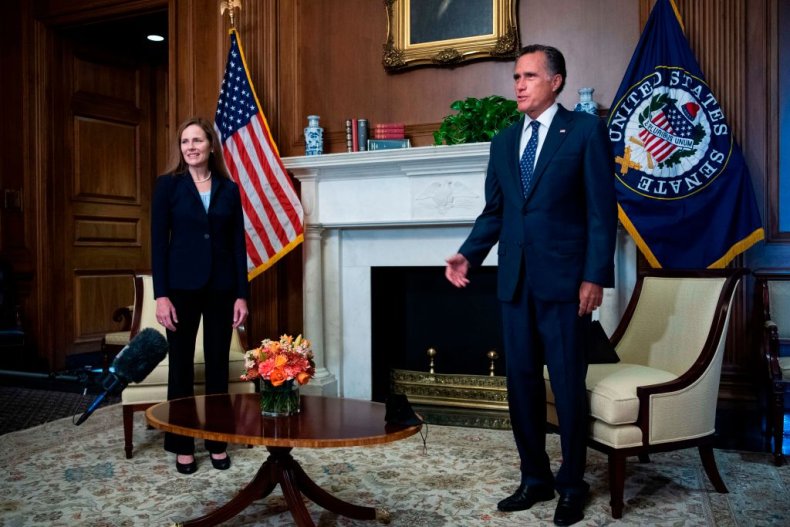 "I recognize that we may have a court which has more of a conservative bent than it's had over the last few decades," the senator told reporters last week. "But my liberal friends have over many decades gotten very used to the idea of having a liberal court. And that's not written in the stars."
Democratic presidential nominee Joe Biden and other Democratic leaders have urged Republicans to wait until after the presidential election before moving forward with the process. They have said that whichever candidate wins, that person should pick the next Supreme Court justice. But GOP senators appear set to move forward with the confirmation, possibly even finishing the process before November 3.
"So 16 days from now we'll start the hearings on October 12," GOP Senator Lindsey Graham of South Carolina, who chairs the Senate Judiciary Committee, told Fox News this past Saturday. "Monday will be an introduction, opening statements, a statement by the nominee. Tuesday and Wednesday will be question days, and Thursday we'll begin the markup process."