Mitt Romney Dismisses Concerns Over More Conservative Supreme Court, Says Liberal Court Isn't 'Written in the Stars'
Senator Mitt Romney, a Utah Republican, dismissed concerns from Democrats that the Supreme Court will become more conservative if President Donald Trump's nominee to replace Justice Ruth Bader Ginsburg is confirmed.
Earlier on Tuesday, Romney released a statement saying he supports moving forward with the confirmation of a new Supreme Court justice, despite the imminent presidential election. His decision appears to cement the likelihood of Trump's nominee being confirmed, as only two Republicans have said they will not support confirmation and four would need to defect to block the nomination.
Speaking to reporters, Romney said that he prefers Supreme Court justices who are "strict constructionists." The senator said this means justices who "look at the law itself and the Constitution, as opposed to sort of looking into the sky and pulling out ideas that they think may be more appropriate than the law or the Constitution."
"I recognize that we may have a court which has more of a conservative bent than it's had over the last few decades," he said. "But my liberal friends have over many decades gotten very used to the idea of having a liberal court. And that's not written in the stars."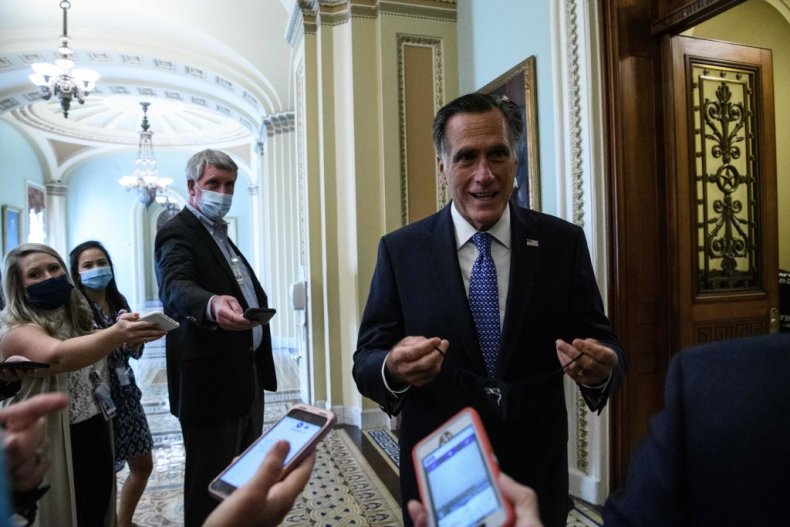 Although Romney said he understands that many Americans don't want the court to become more conservative, he argued it would be appropriate for the country.
"It's also appropriate for a nation—which is, if you will, center right—to have a court which reflects center-right points of view, which again are not changing the law from what it states but instead following the law and following the Constitution," the senator said.
Newsweek reached out to the top Democrats in Congress—House Speaker Nancy Pelosi and Senate Minority Leader Chuck Schumer—for comment on Romney's remarks, but they did not respond in time for publication.
Many had held out hope that Romney would oppose confirming Trump's nominee because of the pending election. Romney has frequently clashed with Trump and was the lone senator from his party to vote to remove him from office in February after his impeachment in the House of Representatives.
In 2016, Republican senators blocked former President Barack Obama's Supreme Court nominee Merrick Garland from receiving a Senate hearing and vote, pointing to the pending presidential election. Romney was not in the Senate in 2016, but GOP Senators Lisa Murkowski of Alaska and Susan Collins of Maine have cited their 2016 position, as well as fairness, in opposing confirmation of Trump's nominee before the election.
"I intend to follow the Constitution and precedent in considering the president's nominee. If the nominee reaches the Senate floor, I intend to vote based upon their qualifications," Romney said in his statement earlier on Tuesday.
"My decision regarding a Supreme Court nomination is not the result of a subjective test of 'fairness,' which, like beauty, is in the eye of the beholder. It is based on the immutable fairness of following the law, which in this case is the Constitution and precedent," he said. "The historical precedent of election year nominations is that the Senate generally does not confirm an opposing party's nominee but does confirm a nominee of its own."
Trump has said that he will "most likely" nominate a woman to fill the seat left vacant by Ginsburg's death last Friday. Judges Amy Coney Barrett and Barbara Lagoa have been floated as front-runners for the nomination.
Democrats have vowed to fight hard against confirming Trump's nominee. But without the votes to stop the confirmation, it's unclear what steps they can take to hold up the process. Before her death, Ginsburg reportedly told her granddaughter, "My most fervent wish is that I will not be replaced until a new president is installed."
On Tuesday, Schumer tweeted: "Senator [Mitch] McConnell and Senate Republicans are fighting to steal two Supreme Court seats, four years apart, using completely contradictory rationales."
He added, "Democrats are fighting to honor RBG's last wish and her legacy."