South Carolina Senator Lindsey Graham was criticized Wednesday after he referred to segregation as "the good old days" during Supreme Court nominee Amy Coney Barrett's confirmation hearing.
Though Graham, a Republican, later told reporters that he made the comment with "deep sarcasm," the incident drew quick backlash from his Democratic challenger Jaime Harrison, with whom Graham is battling for the state's Senate seat this election cycle.
"The good old days for who, Senator?" Harrison said in a tweet accompanying a video clip of Graham's comment. "It's 2020, not 1920. Act like it."
In a statement shared with Newsweek, a spokesperson for Harrison's campaign, Guy King, said the incumbent senator's comments were proof that he is "out of touch."
"Yet again, Lindsey Graham has proven that he's completely out of touch with the South Carolina of today," King said. "Even as peaceful protestors demonstrate across our state for equality and justice, Lindsey can't help but refer fondly to a time of violent oppression and segregation against African Americans. It's time for new leadership that is reflective of the New South, that is bold, inclusive and diverse. Lindsey Graham has lost his moral compass."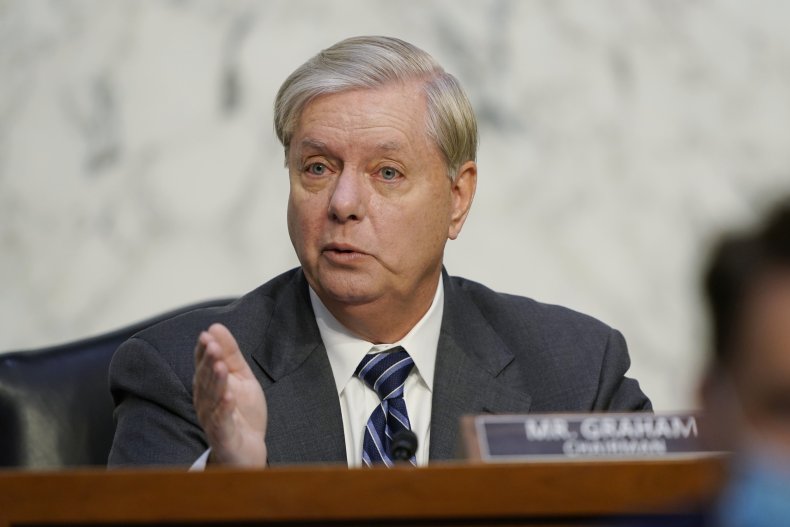 Graham's comment arose on the third day of Barrett's confirmation hearing with the Senate's Judiciary Committee. Graham, who chairs the committee, was asking Barrett about the idea of super-precedents, or decisions made by the high court that have been upheld multiple times and are considered extremely difficult to overturn. Graham mentioned Brown v. Board of Education, one of the few accepted super-precedents that struck down segregation in schools, and asked Barrett, "One of the reasons you can say with confidence that you think Brown v. Board of Education is super-precedent is that you're not aware of any effort to go back to the good old days of segregation by a legislative body, is that correct?" Barrett agreed and said she has stated in the past that she believes the case was correctly decided.
During a break in the day's hearing, Graham told reporters that his reference to segregation was misunderstood. When contacted for comment, Graham's office referred Newsweek to his exchange with reporters. "If anybody was listening to who I am and what I said, you know that it was the deep sarcasm that I suggested that some legislative body would want to yearn for the good old days of segregation," he said.
Graham also responded to Harrison's criticism when speaking with reporters. "It blows my mind that any rational person can believe that about me," he said. "This is not a game we're playing here with the people of South Carolina. There are plenty of differences between my opponent and myself. Manufacturing the scenario that Lindsey Graham wants to go back to the days of segregation is not worthy of the times in which we live, is not worthy of an assault on me. We have plenty of differences with Mr. Harrison. I want to assure the people of South Carolina: That statement was made with dripping sarcasm."
Graham was elected as a South Carolina senator in 2002 and has chaired the Judiciary Committee since 2019. Harrison, who made history in 2013 as the first Black chair of the South Carolina Democratic Party, announced earlier this week that his campaign broke a fundraising record for a Senate candidate, with $57 million raised during the third quarter of 2020. Most state polls conducted over the last few months have shown a tight race between Graham and Harrison, and both candidates have continued pushing for support from their bases as Election Day ticks closer.