Senator Lindsey Graham brushed off the investigation into Commerce Secretary Wilbur Ross over his alleged threat to fire senior NOAA officials over a National Weather Service tweet that contradicted President Donald Trump on Hurricane Dorian, calling it "garbage."
The Office of Inspector General at the Commerce Department has opened a probe as The New York Times reported that Ross threatened to fire political staff at NOAA unless they reversed the embarrassment to Trump. The Commerce Department called the story false.
Trump had repeatedly claimed Hurricane Dorian was a threat to Alabama based on early forecasts. The National Weather Service in Birmingham tweeted, based on its most recent data, that Alabama was not in Dorian's path, trying to dispel any public confusion.
"I could give a crap," Graham, a South Carolina Republican, told Fox News host Brett Baier on Tuesday. "I could care less. This whole thing is a bunch of garbage. The president did have a model where it could hit Alabama if it went through Florida.
"This is the Trump world. The guy can't do anything without getting criticized by a bunch of people who just hate his guts and I'm not playing that game."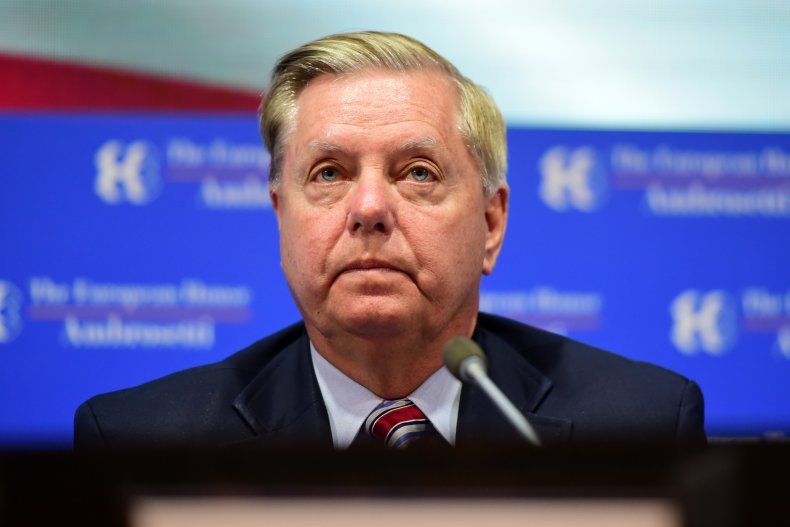 Democrats were calling on Ross to resign if the allegation that he threatened top NOAA officials was true.
"That would be the most blatant use of an official position in the service of the ego and the political fortunes of the president that we have ever seen," Rep. Jim Himes, a Connecticut Democrat, told CNN.
"And in this case, it's particularly serious because, of course, you know, issues around weather forecasting, ships rely on that, communities rely on that, people make decisions about whether a hurricane is coming or if it's not."
A Commerce Department spokesperson told Newsweek: "The New York Times story is false. Secretary Ross did not threaten to fire any NOAA staff over forecasting and public statements about Hurricane Dorian."
To the dismay of its scientists, NOAA released an unsigned statement backing up President Trump over Dorian, despite his use of outdated information and his display in the Oval Office a forecast map altered by pen so the hurricane's path included Alabama.
"From Wednesday, August 28, through Monday, September 2, the information provided by NOAA and the National Hurricane Center to President Trump and the wider public demonstrated that tropical-storm-force winds from Hurricane Dorian could impact Alabama," the statement said.
"The Birmingham National Weather Service's Sunday morning tweet spoke in absolute terms that were inconsistent with probabilities from the best forecast products available at the time."