Lindsey Graham Defends Horseback Border Agents, Says Border Is 'Under Siege'
Senator Lindsey Graham has defended horseback border agents after viral images prompted criticism over the agents using what were thought to be "whips" to control Haitian migrants.
The images prompted fierce backlash from Democrats outraged over aggressive behavior from the cowboy hat-wearing agents toward migrants at the U.S.-Mexico border, where thousands of Haitians have recently been turned away while seeking refuge. While much of the criticism centered on agents using supposed whips, Homeland Security Secretary Alejandro Mayorkas and others have said that the photos actually show long reins.
Graham blasted criticism of the agents from Representative Maxine Waters during a Thursday interview on Fox News. On Wednesday, Waters had said that the footage showed agents "whipping Black people" and "was worse than what we witnessed in slavery." Graham insisted that President Joe Biden's immigration policies put the country "under siege" and that criticism being directed towards the "cowboy" border agents was "the most inhumane thing."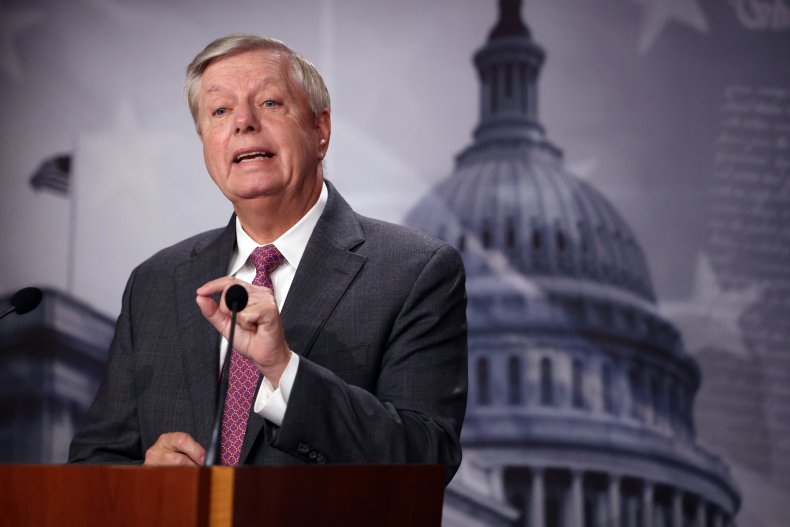 "You know who the cowboys are? They're federal law enforcement agents with a duty to protect the border and she sees them as the bad guy," Graham said. "Here's what I want to say to the American people: The man on horseback is there to protect your family. The people rushing our border have put us all under siege."
"The most inhumane thing going on right now in America is that the men and women of Border Patrol have been completely abandoned, demagogued, scapegoat[ed] and treated like dirt by elected officials in the Democratic party and this administration," he added. "So, I'm not unhappy, I'm pissed."
The Biden administration's immigration policies have received bipartisan backlash, although the focus of criticism has differed depending on which end of the political spectrum it is coming from. Waters said she was "pissed" at Biden for following the immigration policies of former President Donald Trump, while Graham argued that the president had "surrendered the border" and that a "major terrorist attack" would be coming as a result.
The actions of border agents are still being debated amid disagreements over what the controversial images show. Although one border agent was reportedly "twirling his long leather reins in a menacing way," an Associated Press review of footage found that the agents were not using whips or using their reins as whips. The outlet conceded that the agents appeared to "herd" the migrants and were at times taunting them.
After seemingly seeking to defend the agents and quickly dismissing the notion that whips were shown earlier in the week, Mayorkas said the pictures "horrified" him amid mounting criticism from Democrats on Wednesday, while promising that a full investigation into the actions of the agents would yield results "in days."
Newsweek reached out to the White House for comment but did not hear back in time for publication.