Lindsey Graham Denies Urging Georgia Election Official to Toss Out Legal Absentee Ballots: 'That's Ridiculous'
Republican Senator Lindsey Graham on Monday denied an allegation that he and other Republicans have pressured Georgia's top election official to toss out legal absentee ballots in a bid to overturn President-elect Joe Biden's slim win in the Peach State.
"That's ridiculous," the South Carolina lawmaker told reporters on Capitol Hill about the claim from Georgia Secretary of State Brad Raffensperger, who is also a Republican. "What I'm trying to find out was, how do you verify signatures on mail-in ballots in these states that are just the center of attention?"
Raffensperger told The Washington Post that apart from Graham's inquiry into Georgia's signature-matching process, the Senate Judiciary Committee chairman and Trump confidant also asked whether Raffensperger had the ability to invalidate all mail-in ballots in counties that have higher rates of nonmatching signatures.
Biden leads Trump by little more than 14,100 votes in Georgia, which hasn't voted for a Democratic presidential candidate since Bill Clinton in 1996. The state is amid a post-election audit that is being conducted by hand.
Raffensperger told the outlet that he was stunned and it "sure looked like" Graham "was wanting to" toss out ballots that were legally cast. Only a court possesses the authority to do so, Raffensperger added.
Graham denied that he ever made such a request and questioned the newspaper's reporting, despite Raffensperger's interview being on the record.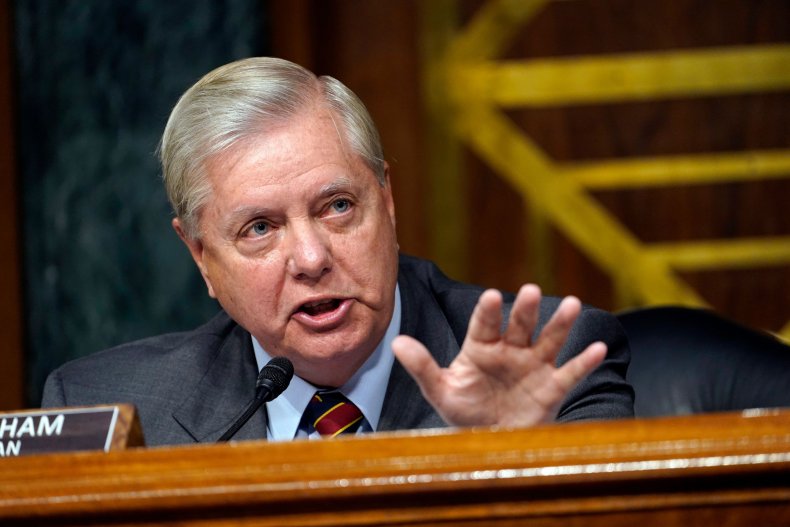 "I don't trust The Washington Post on anything," Graham responded when pressed by Newsweek about Raffensperger's remarks. "He needs to call me, tell me that. Until he calls me and tells me that, I'm not going to believe a word. I had a very pleasant conversation with him. I actually enjoyed talking with him."
Graham's concern about the matching signatures echoed the baseless claims that have been levied by Republicans and President Donald Trump about widespread election fraud in battleground states. Georgia's two GOP senators—Kelly Loeffler and David Perdue, who are in high-stake runoff races slated for January 5 that could determine which party controls the Senate—have called on Raffensperger to resign over assertions that he has mishandled vote irregularities, despite no evidence of irregularities occurring.
Graham said Trump did not ask him to phone Raffensperger and that he did not brief the president about the conversation afterward.
"I actually thought it was a good conversation," Graham said. "I learned a lot about it. Rather than hearing all these internet things, I just called the guy and say, 'how does it work, how can you make it better?'"
The Post also reported that on Friday, the same day Graham and Raffensperger spoke, a federal lawsuit was filed in Georgia by a local lawyer and Trump supporter that questioned the state's signature-matching process and rules for voters to correct errors. Raffensperger told The Post he will fight the lawsuit, citing a concern for voters' ballot privacy.
Trump also tweeted that same day, falsely claiming he "won the state" even after it was called for Biden.
"Georgia Secretary of State, a so-called Republican (RINO), won't let the people checking the ballots see the signatures for fraud. Why?" the president wrote. "Without this the whole process is very unfair and close to meaningless. Everyone knows that we won the state."