Senator Lindsey Graham has said he would be prepared to speak "until I fell over" if there is a return to the talking filibuster.
Support has been growing among Democratic lawmakers to eliminate or reform the filibuster to ease the passage of their agenda, which includes election reform and LGBTQ+ protections.
Amid speculation over the future of the process, President Joe Biden has suggested a return to the talking filibuster, in which a lawmaker from the minority party had to continue holding the floor to delay or block legislation.
This process has morphed: now, a signal by senators that they will object to legislation is enough for it to be dropped from floor consideration. But Biden told ABC News that the filibuster could revert to the days when "you had to stand up and command the floor, you had to keep talking."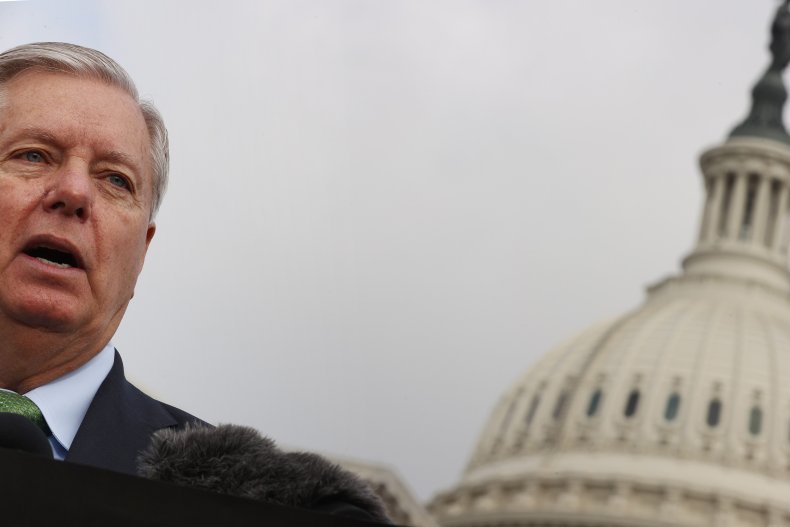 Graham said the president should not underestimate the resolve of Republicans, adding that if talking is what it would take to prevent a bill from passing, he personally would do it.
"Here's what Biden needs to understand. If you go to the talking filibuster, we will take the floor to stop HR 1," the South Carolina lawmaker told Fox News program Hannity, referring to the bill to expand voting rights.
"I would talk until I fell over to make sure that we don't go to ballot harvesting and voting by mail without voter ID," he added.
The South Carolina senator also doubled down on the suggestion by Minority Leader Mitch McConnell that if the filibuster is eliminated, the Republicans would grind Senate business to a halt by refusing consent for routine operations.
Graham told Sean Hannity that with "a 50-50 Senate, you can't do anything without unanimous consent that matters. To have a quorum, you've got to have 51 people present and the vice president doesn't count.
"So if they did this, we could really shut down the entire Senate because we just won't show up," he said.
All the Democrats in the upper house would need to support a proposal to abolish the filibuster for this to pass, but at least two within their ranks, Kyrsten Sinema of Arizona and Joe Manchin of West Virginia, have expressed reservations.
Graham told Hannity that he had spoken to Senator Manchin "who said that he was not going to vote to abolish the filibuster."
"If they [Democrats] pick up one more seat in 2022, if they get 51 or 52 Democratic senators, they're going to abolish the filibuster and transform America."
"If they had 52 Democrats, they would deal Joe Manchin out and they would change the rules of the Senate," he added.
Newsweek has contacted the White House for comment.