Senator Lindsey Graham has begged Fox News viewers to donate to his campaign at least five times in the space of less than two weeks as he faces a tough contest for his South Carolina seat.
The Republican incumbent told Hannity viewers on Wednesday that his Democratic challenger Jaime Harrison's campaign was "loading" him up because of his efforts to push for a confirmation vote on Supreme Court nominee Amy Coney Barrett.
Graham previously told the network that he was getting "killed financially" as polls showed the GOP senator neck-and-neck with Harrison with a month to go until polling day.
"The Democrats are going crazy raising money against the president, myself," Graham told Fox News last night. "LindseyGraham.com. They're loading me up because I'm chairman of the judiciary committee, trying to get to the bottom of what happened with the Russian collusion, and get Amy Barrett through."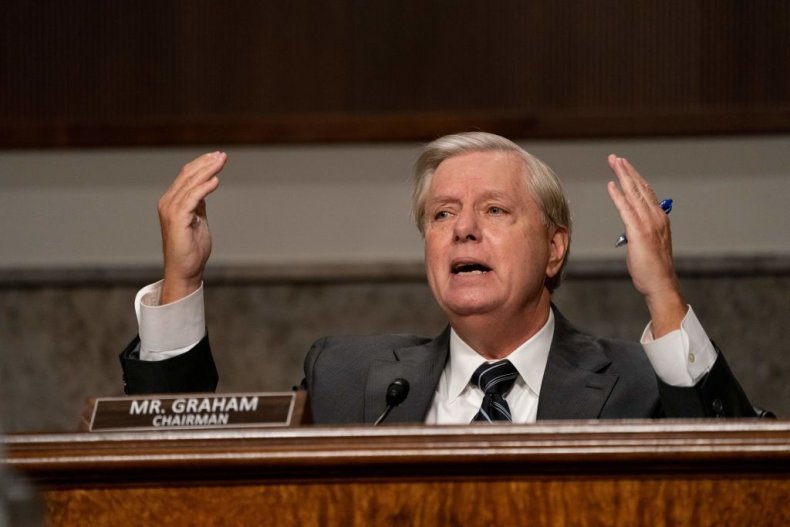 Appearing on Fox News' Sunday Morning Futures show just a few days earlier, Graham issued a similar plea for campaign cash.
"I'm being out-raised two-to-one, every Republican running in the Senate is being hit hard with all this money coming from ActBlue," he said. "So if you want to help me... five or ten bucks goes a long way."
In another appearance on Hannity on Thursday last week, the South Carolina Republican said he was "getting overwhelmed" by his Democratic rival's fundraising efforts, and added that his opponent's campaign was "killing" him financially.
Speaking on the same show three days earlier, Graham said: "I'm getting out-raised three-to-one, outspent four-to-one. If you want to help me fight back, go to LindseyGraham.com. Five or ten bucks from half your audience would fill in the gap that I'm facing."
According to the latest Federal Election Commission finance data, Harrison had raised almost $29 million by the end of June. By comparison, Graham's campaign coffers were loaded with a little more than $26 million.
The Republican had also been outspent by a margin of more than $4 million at the time, with his Democratic rival's team unloading $18.7 million on advertising and other campaign resources.
Local newspaper The State reported in early September that Harrison had even managed to raise more than $10 million in August alone, more than Graham raised throughout the entire second quarter of this year.
At the time of writing, a number of battleground polls from South Carolina have showed Graham and Harrison at a statistical tie, with one survey released by Quinnipiac University on Wednesday showing the candidate's neck-and-neck with 48 percent of the vote.