During Supreme Court nominee Ketanji Brown Jackson's confirmation hearing on Wednesday, Senator Lindsey Graham protested the past treatment of conservative judges for the third day in a row.
Graham repeatedly pressed Jackson on her views of the Kavanaugh hearings in 2018, which Jackson said she didn't watch or had no comment on.
"If she's confused about what happened, some people on the other side had an accusation against Judge Kavanaugh that during high school he sexually assaulted somebody," Graham said. "And the rest was history."
Graham went on to say that Kavanaugh was "ambushed" and asked Jackson how she would feel in that situation.
Senate Judiciary Chairman Dick Durbin swiped back at Graham, telling the South Carolina Republican that Jackson had nothing to do with the situation. However, Graham continued to press Jackson about her views on the subject.
"I don't have any comment on what procedures took place in this body regarding Justice Kavanaugh," Jackson said.
Graham told Jackson on the first day of hearings that she wouldn't be "attacked" like Kavanaugh. Kavanaugh was ultimately confirmed to the bench by the Senate in a 50-to-48 vote.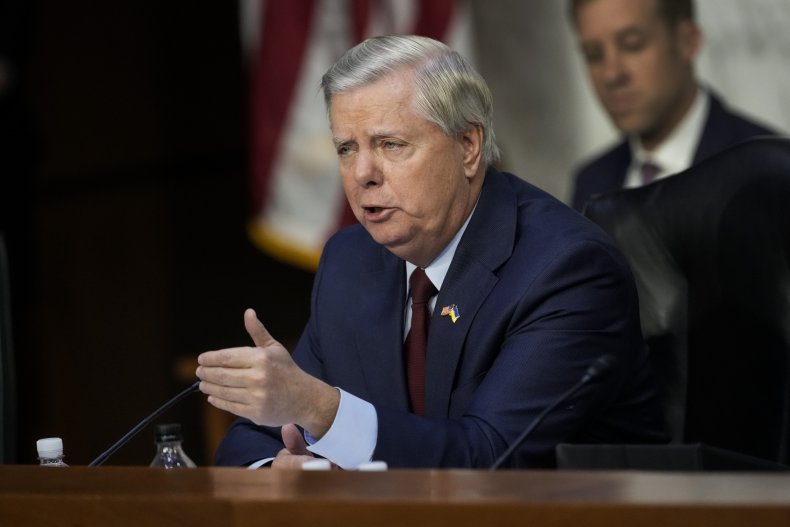 Republicans on the Senate Judiciary Committee have spent a significant amount of time during this week's hearings airing grievances about the hearings for Kavanaugh, Justice Amy Coney Barrett and even Robert Bork's failed 1987 nomination to the Supreme Court.
Senator Ted Cruz on Monday called Kavanaugh's hearings "one of the lowest moments" in the history of the committee. The Texas Republican also assured Jackson, "No one is going to ask you, with mock severity, 'Do you like beer?'"
On Tuesday, Graham was criticized for questioning Jackson on her religious views as he rehashed Barrett's hearings. Barrett, a practicing Catholic, faced questions about how her faith may influence her decisions on the bench and her ties to the People of Praise group. Barrett was confirmed by the Senate to fill late Justice Ruth Bader Ginsburg's seat in 2020.
Graham asked Jackson what her faith was and to rate her faithfulness on a scale of 1 to 10.
Jackson replied that she was "reluctant to talk about my faith in this way" and emphasized the importance of the public having confidence in her ability to separate her personal beliefs from her decisions as a judge.
"As you know there is no religious test in the Constitution," Jackson also told Graham.
Update 03/23/22, 1:05 p.m. ET: This story was updated with more information and background.