Lindsey Graham Was 'In the Loop' About Efforts to Get Information on Bidens in Ukraine, Lev Parnas Claims
GOP Sen. Lindsey Graham was "in the loop" about efforts to dig up dirt on the Bidens in Ukraine, Lev Parnas claimed in an interview on Wednesday.
The indicted former associate of Rudy Giuliani told CNN's Anderson Cooper 360° that the South Carolina Republican was "in the loop just like everyone else," and claimed to have "a lot of information about his dealings."
But Parnas also said he did not know if Graham was "deeply involved" and clarified that he had not been in direct contact with the senator.
The Florida businessman's claims came after his lawyer Joseph Bondy told the Daily Beast Giuliani showed Parnas a letter, allegedly given to Sen. Graham, that urged for sanctions to be levied against Ukrainian officials—including an official who ran the company where Hunter Biden served as a board member.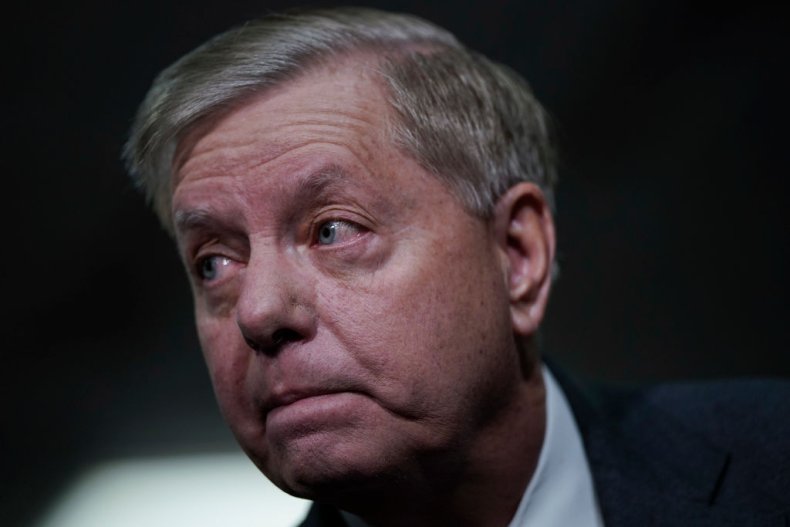 Parnas arrived in Washington on Wednesday to listen to the ongoing Senate impeachment trial, which entered its question-and-answer phase yesterday.
Asked why he wanted to be in Washington for the impeachment trial, Parnas said: "I think it's important that the truth gets out and witnesses get called. I thought it would put a little extra pressure on some of the senators if they see me there, knowing that I'm one of the crucial witnesses to this whole thing."
He later said he didn't bump into any Republican senators during his Capitol Hill visit, but urged them to "vote with their conscience."
Speaking about Sen. Graham, Parnas claimed to have "a lot of information about his dealings" due to his relationship with Giuliani.
The indicted businessman said: "It was surreal then to watch Lindsey Graham up there... he's out there talking about all this stuff, that this is a sham, this should go away, when at the end of the day, he was in the loop just like everyone else."
"He was aware of what was going on, going back to at least 2018, maybe even earlier," Parnas added.
CNN host Cooper asked: "So you're saying Sen. Lindsey Graham knew about you and Mr. Giuliani's efforts in Ukraine?"
"Absolutely, just like I said," the former GOP donor said. "First of all, Sen. Graham was involved before even I got involved with Mayor Giuliani. So he had to have been in the loop, and he had to have known what was going on."
After being pushed further to confirm whether he was claiming Graham knew of the efforts to "dig up dirt" on the Bidens in Ukraine, as Cooper put it, Parnas responded "one million percent." He added that Giuliani told him on "several occasions" that he had spoken with the senator "about the situation."
But the indicted businessman admitted he did not know if the South Carolina Republican was "deeply involved" and never spoke with Graham himself.
Newsweek has contacted Parnas' attorney for further comments and documentation supporting his client's allegation.
The office of Sen. Graham has also been contacted for comment on the claim, and this article will be updated with any response.
The South Carolina senator dubbed Parnas as "crooked as a snake" in an interview with Fox News after the ex-Giuliani associate began disclosing further impeachment evidence earlier this month.
Bondy released a recording last week of an April 2018 dinner with President Donald Trump that was attended by Parnas, during which the commander-in-chief called for then-U.S. Ambassador to Ukraine Marie Yovanovitch to be ousted.
Parnas also asked a court to allow him to hand over more recordings of the president to the House Intelligence Committee, which spearheaded the impeachment inquiry into Trump.