Lindsey Graham Says Biden Is Run by the Radical Left, Will Abolish the Electoral College and Stack the Courts
South Carolina Senator Lindsey Graham said that Democratic presidential nominee Joe Biden will abolish the Electoral College, stack the courts and do whatever the left wing of the Democratic Party instructs him to do if he is elected president.
Graham, a Republican, spoke about Biden Friday morning on Fox and Friends after spending a week leading the confirmation hearing for U.S. Supreme Court nominee Amy Coney Barrett. Like Biden, Graham is also involved in a competitive race with less than three weeks remaining until Election Day.
"Joe Biden's going to do whatever he's told to do by the left," Graham told host Brian Kilmeade. To describe his view of the far left wing of the Democratic Party, Graham referenced a hug that he exchanged on Thursday with Senator Dianne Feinstein, a fellow member on the Judiciary Committee and a Democrat who has represented California in the Senate since the early 1990s. The incident received quick backlash from some of the party's more liberal members, according to the Associated Press.
"To hug Lindsey Graham, people on the left called for your dismissal after you served your state and your nation for decades," Graham said. "Can you imagine what they would do to anybody that voted for Barrett? Can you imagine what they'd do to President Biden if he didn't adopt their agenda?"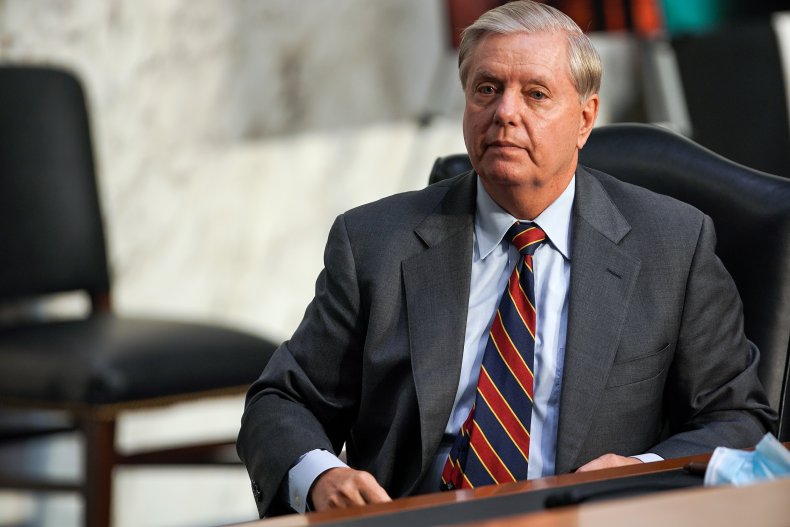 Graham then shifted his focus to how he said the left has affected his own campaign to remain in the Senate. Earlier this week, his Democratic challenger, Jaime Harrison, announced that his campaign broke a fundraising record for a Senate candidate by raising $57 million in the third quarter of 2020. "The radical left has taken over; they're trying to take me out," Graham said, later adding, "I need people to help me."
Graham turned back to discussing Biden when Kilmeade mentioned a statement from Brian Fallon, who serves as the executive director of the left-leaning advocacy group Demand Justice and called for Feinstein to step down from her role as the ranking member of the Judiciary Committee.
"Brian Fallon and that crowd is in charge of the Democratic Party," Graham said. "Joe Biden will stack the court, they will add numbers to the court to make it liberal, they will do away with the Electoral College to deal out South Carolina.
"They're on a search-and-destroy mission when it comes to everything Trump," Graham added. "They will transform this country."
Following former Associate Justice Ruth Bader Ginsburg's death last month and Barrett's subsequent nomination to fill Ginsburg's seat, Biden has avoided direct declarations on whether he would try to add seats to the Supreme Court if elected, though he has expressed resistance to the idea in the past. During a town hall event on Thursday evening, Biden was pressed on the issue and said he would share his opinion with voters after the Senate votes on Barrett's confirmation next week.
Regarding Graham's comments about Biden's stance on the Electoral College, the former vice president told the New York Times' editorial board last December that he did not support abolishing the Electoral College. The idea is one that several Democratic candidates who were campaigning for president last fall said they supported, according to Politico. A majority of Americans also said they supported shifting away from the Electoral College system to a popular vote model, according to a September Gallup poll.
Newsweek reached out to Biden's campaign for comment but did not receive a response in time for publication.