Lindsey Graham Says GOP Is Trump's Party and 'He's Allowed Me to Be in His World'
GOP Senator Lindsey Graham of South Carolina on Monday evening said that the Republican Party belongs to former President Donald Trump and he has "allowed me to be in his world."
In an interview on Fox News, Graham told host Sean Hannity that he just got off the phone with Trump and praised their close relationship.
"I actually like President Trump, he's been very nice to me, he's allowed me to be in his world, he allows me to give my two cents worth on issues when he was president," he said.
"This is his party," Graham continued. "If you don't get that, you missed a lot at [the Conservative Political Action Conference (CPAC)] ."
At CPAC on Sunday, Trump excoriated President Joe Biden's policies, vowed to continue his Make America Great Again movement and hinted to supporters that he may run again in 2024.
"Actually you know they just lost the White House, I may even decide to beat them for a third time," he said.
Trump also assured conservatives that he will remain a Republican in his fight for the America First agenda, calling speculation that he could start his own party "fake news."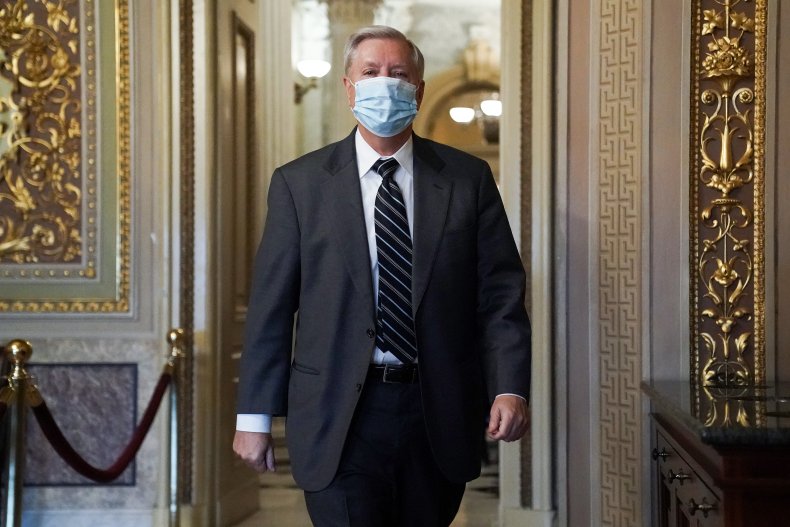 The South Carolina senator, one of Trump's closest congressional allies, predicted that "no one" would be able to take the 2024 Republican Party nomination away from him if he decides to run.
"I think he's got a damn good chance of getting reelected again based on what the Democrats are doing to the country," he said.
Graham also expressed his belief that the next biggest test for Trump is the 2022 midterm elections.
"Let's make sure we have our best candidates on the field, let's don't have primaries of people who've been good Republican conservatives, let's unite," he said. "That sets the stage for a 2024 comeback."
The Republican also claimed that Trump was so popular among conservatives that not a single person at CPAC was seen criticizing him.
"Did you find one person at CPAC that criticized Donald Trump? I thought it was amazing that we have so many people wanting to be president but not one person would say anything bad about him. That tells you a lot about the strength of Donald Trump," he said.
Newsweek reached out to Trump representatives for comment.
With Trump out of the White House, the Republican Party has devolved into a civil war between his wing of loyal supporters and the establishment wing impatient to limit his grip on the party.
Recent polling shows that the former president has still held onto his base of supporters one month after leaving office. In last week's USA Today/Suffolk poll, 46 percent of Trump voters said they would leave the Republican Party to join his new party if he decides to start one. Just 27 percent said they would remain.