Lindsey Graham Says Senate Attempt to Disqualify Trump 'Unconstitutional Act of Political Vengeance'
Senator Lindsey Graham, a South Carolina Republican, condemned Democrat-led efforts to convict President Donald Trump and disqualify him from holding elected office in the future, describing the actions as an "unconstitutional act of political vengeance."
The House of Representatives last Wednesday impeached Trump a second time, with 10 GOP lawmakers voting in favor alongside their Democratic colleagues. The impeachment came after the president on January 6 helped incite a violent mob to storm the U.S. Capitol in an effort to overturn the Electoral College victory of President-elect Joe Biden. Trump told his supporters at a demonstration ahead of the riot to "fight like hell" to keep him in office, instructing them to march to the Capitol where lawmakers had convened to certify Biden's win. Five people died in the violence that ensued.
Now the impeachment trial will move to the Senate, although the timeline remains unclear. Some Republican senators have suggested they'd be open to convicting Trump and potentially disqualifying him from running in future elections. Graham, a key ally and defender of the president, on Sunday tweeted a copy of a letter he sent to presumptive Democratic Majority Leader Chuck Schumer, a New York Democrat, criticizing the planned trial.
"The impeachment power exists to protect the Nation from the harm that an incumbent president might inflict upon the Nation were he to remain in office. Not to vindicate political grievances after a president has left office," Graham wrote in the letter.
The South Carolina Republican argued that holding the trial for Trump after he leaves office would defy the Constitution. "The Senate's attempt to disqualify a President from future office who is no longer in office, would be an unconstitutional act of political vengeance, not a righteous constitutional act to protect the Nation by removal of an incumbent president," he said.
Newsweek reached out to press representatives for Schumer for comment but they did not immediately respond.
In an interview with Fox News host Maria Bartiromo on Sunday, Graham called the impeachment "insane at every level." He said it would "create further division in the country." Graham also warned Republican colleagues considering supporting Trump's conviction that it would "destroy" the GOP.
Although no Republican senator has publicly said they will support impeachment, several have strongly condemned the president's actions and said he committed impeachable offenses. Current Senate Majority Leader Mitch McConnell, a Kentucky Republican, sent a letter to GOP colleagues suggesting he was open to supporting Trump's conviction.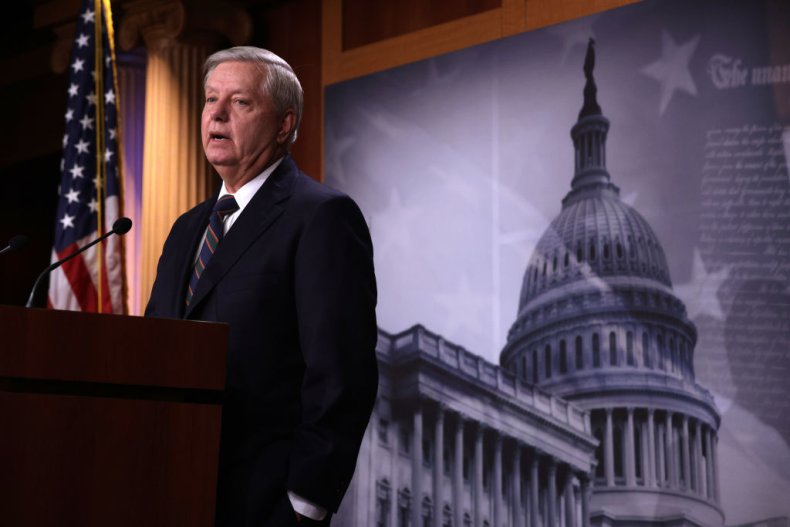 "I have not made a final decision on how I will vote and I intend to listen to the legal arguments when they are presented to the Senate," McConnell wrote.
Senator Lisa Murkowski, an Alaska Republican, voiced her support for the House of Representatives' decision to impeach Trump last week.
"On the day of the riots, President Trump's words incited violence, which led to the injury and deaths of Americans—including a Capitol Police officer—the desecration of the Capitol, and briefly interfered with the government's ability to ensure a peaceful transfer of power," Murkowski said. "Such unlawful actions cannot go without consequence and the House has responded swiftly, and I believe, appropriately, with impeachment."