Lindsey Graham Says Trump Should Attend Biden's Inauguration: 'It's Good for the Country'
Republican Senator Lindsey Graham said Monday that President Donald Trump should attend the inauguration of President-elect Joe Biden in January.
"If Biden winds up winning, yeah, I think so," the Trump confidant told congressional reporters as he exited the Capitol. "I just think it's good for the country, it'd be good for [Trump]. I hope Biden will come to his," he added with a slight chuckle.
Graham's remarks were yet another step toward the realization that Biden won the election, even as he added a caveat.
Like many of his fellow Republicans on Capitol Hill, Graham has yet to acknowledge that Trump lost, as the president and his campaign continue to sow doubt in the democratic process and try to overturn Biden's victory through legal filings lacking evidence. They have yet to change the outcome in any state.
Trump is still a wildcard as to whether he'll choose to attend the swearing-in of his Democratic successor on January 20. He is reportedly considering making an announcement for a 2024 presidential bid during the inauguration. Republican lawmakers, fully aware of the immense power that Trump still wields with his base among battle for Senate control, have refused to come out against him making another go at the White House.
But based on the president's refusal to concede, his administration's weeks-long delay in beginning the formal transition process, his repeated rhetoric about how the election was "rigged" against him and falsely claiming he was the true victor, it appears unlikely that Trump will want to attend.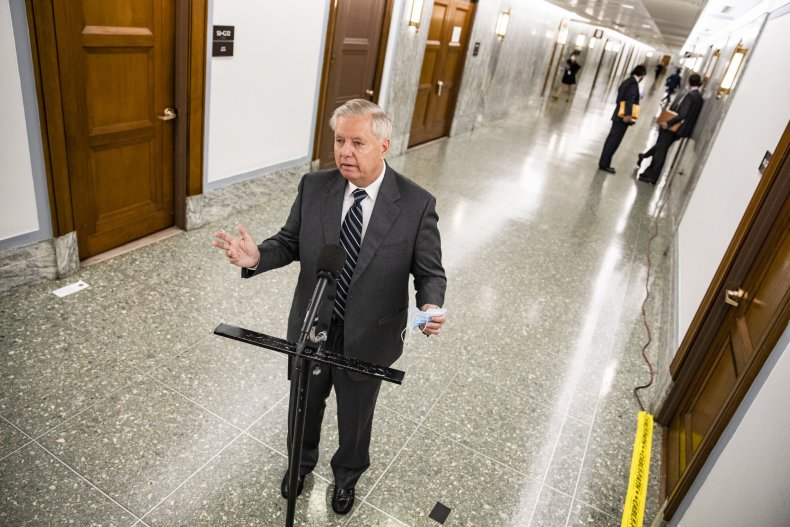 Still, at least some Republicans, such as Sen. Roy Blunt (R-Mo.), the No. 4 Republican, have said Trump should participate and be there in-person.
"I hope the president is there on Inaugural Day," Blunt told CNN over the weekend, adding that it's "likely" Biden will be the one raising his right hand as he is sworn in—not Trump. "I think there's a big role for President Trump. I hope he embraces that and looks at how you move to whatever comes next for him, assuming that this election works out the way it appears it will."
Graham said he spoke with Trump over the weekend, a conversation in which Graham said he urged the president to "keep it up" with his fight to alter the election outcome in the courts.
"He's going to fight for every vote and push systems to get better, and I said, 'Keep it up,'" Graham said.
Asked whether it appeared Trump was coming to grip with reality about his defeat, Graham responded: "I think he's focused on the challenges he has and trying to deal with mail-in voting, and I'm very worried about it to myself, quite frankly."