Lindsey Graham Claims NYT Article Is Plot by the Left to Stop Barr Looking at Whether Trump Was Victim of Intelligence Services
Senator Lindsey Graham has defended discussions president Donald Trump had with foreign leaders, in which Trump reportedly asked his counterparts to help search for evidence into the origins of the Mueller inquiry.
The New York Times reported that Trump had urged the Australian prime minister Scott Morrison to assist Attorney General William Barr get information the president had hoped would discredit the inquiry into Russian interference in the 2016 election.
Barr had also asked Trump to initiate introductions between him and leaders from Italy and other countries, ABC News reported.
But the South Carolina senator, who is a staunch defender of Trump, told Fox News on Monday there was nothing wrong with this kind of contact with foreign leaders. He said that he would personally write a letter to the leaders of Australia, Italy and the United Kingdom, to urge them to cooperate with Barr.
He also accused the Democrats of double standards during an appearance on The Sean Hannity Show, in which he held up a letter that he claimed the opposition party had sent to Ukraine in May 2018 threatening to cut aid if it did not cooperate with the Mueller investigation.
Graham said: "This New York Times article about Barr talking to Australia is the beginning of an effort to shut down Barr's investigation to find out how this whole thing started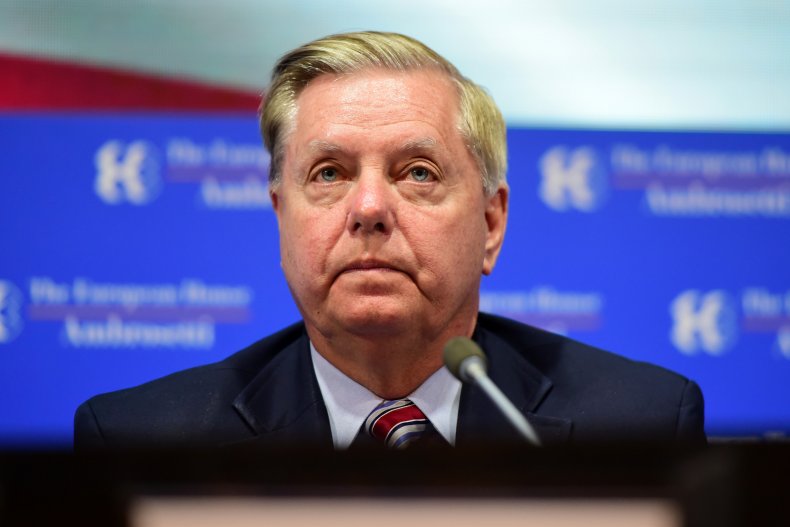 "Barr should be talking to Australia, to Italy, to the U.K to find out if their intelligence services worked with our intelligence services improperly to open up a counterintelligence investigation of Trump's campaign.
"If he's not doing that, he's not doing his job."
Graham also questioned why, as the Democrats claim, it is "OK to cooperate with Mueller to get Trump, but not OK to cooperate with Barr to find out if Trump was a victim of an out-of -control intelligence operation."
Graham would not be drawn by Hannity on whether he thought if Australia, Italy and the U.K. had been asked "to spy" on behalf of Washington as a way to circumvent U.S. law.
"I don't know, but I know we're going to find out in two weeks and I think Barr should be looking at that."
Changing tack, Graham said: "This New York Times article is an effort to stop Barr from looking at how this whole thing began in 2016 regarding the Trump campaign. What are they afraid of?
"This bothers me that the Left is going to try to say there's something wrong with Barr talking to Australia, Italy and the United Kingdom.
"If you are worried about foreign people being involved in our elections, you ought to be worried about Christopher Steele being hired by the Democratic Party," he added, referring to the former British intelligence officer who authored a dossier that claimed Russia had compromising information on Trump.
Adam Schiff, the chairman of the House intelligence committee, told ABC that he unnamed whistleblower who said Trump had pressured his Ukrainian counterpart Volodymyr Zelensky to find dirt on 2020 rival Joe Biden, and his son Hunter, will reportedly appear before Congress soon.
Graham also speculated about the motives of the whistleblower, asking if "they have any connection to the intelligence community, the 'old intelligence community' that was corrupt as hell."
"The whistleblower investigation has been sent to the intelligence community, we will look at all things Biden. I hope somebody outside of politics would do to the Biden team what they did to Trump," Graham added.