Lindsey Graham Says Senate Would Reject Assault Weapon Ban
Senator Lindsey Graham said the upper chamber will reject any assault weapons ban if it is put to a vote as Democrats and the White House push for background check reforms.
The South Carolina Republican told the Washington Examiner on Wednesday that he owned an AR-15 and believed the Senate would vote against any curbs on the purchase or ownership of assault weapons.
He added that Democrats in largely Republican states would also feel unable to vote for a ban. Sen. Joe Manchin of West Virginia, a conservative Democrat, has already hinted that he will oppose the gun control bills brought forward by the House.
Speaking to the Washington Examiner, Sen. Graham said: "I want a vote on an assault weapons ban. I own an AR-15. Now why do I own it? Because I have the right to own it, and I choose to own it."
"If there were a vote tomorrow to ban assault weapons, I'll make a prediction. A majority of the Senate would reject that vote," he added. "There are Democrats living in red states that cannot vote for an assault weapons ban."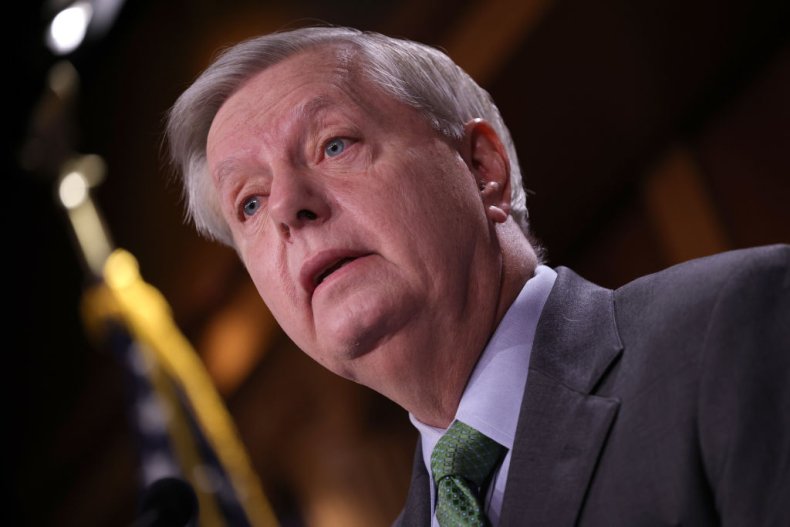 Neither of the background check bills passed by the House earlier this month propose a ban on assault weapons. But they would expand background checks to all gun purchases, and extend the time FBI officials have to conduct checks.
Democrats will need 60 votes in the Senate to pass the background check reforms. Yet, their slim 51-50 majority and a lack of support from the Republican benches means the reforms are unlikely to pass.
Senator Chris Murphy (D-CT) said it was wrong to "assume background checks can't get 60 votes" on social media earlier this week, offering a sliver of optimism to the Democratic ranks.
Speaking at the White House on Tuesday, President Biden struck a more cautious tone as he urged senators to back the background check legislation put forward by the lower chamber. "These are bills that received votes of both Republicans and Democrats in the House," he said. "This is not and should not be a partisan issue; this is an American issue."
The president called on lawmakers to pass the reform bills and ban assault weapons after a mass shooting at a supermarket in Boulder, Colorado left 10 people dead. A 21-year-old suspect was detained at the scene and is due to appear in court for the first time today.
A gun purchased by the suspect before the attack had previously been banned by the city until a judge lifted the block mere days before the shooting occurred.