Adam Kinzinger, 7 Other House Republicans Vote for Gun Background Checks Bill
Republican Representative Adam Kinzinger of Illinois, along with seven other House Republicans, voted Thursday in favor of legislation to expand background checks for firearm purchases.
The seven other Republicans who voted in favor of the bill were Vern Buchanan of Florida, Brian Fitzpatrick of Pennsylvania, Maria Salazar of Florida, Andrew Garbarino of New York, Chris Smith of New Jersey, Fred Upton of Michigan, and Carlos Gimenez of Florida.
"The vast majority of Americans believe in universal background checks," Kinzinger wrote in a Thursday tweet. "As a gun owner myself, I firmly support the Second Amendment but I also believe we have to be willing to make some changes for the greater good."
Attached to his tweet was a statement addressing his decision to vote in favor of the legislation.
The bill, H.R. 8 expands background checks for individuals planning to purchase or transfer firearms. H.R. 8, also titled the Bipartisan Background Checks Act of 2021, passed in a 227–203 vote. In 2019, the bill was passed through the Democrat-controlled House of Representatives but was later stalled in the Senate.
"Following the shootings in Dayton, Ohio and El Paso, Texas in August 2019, I said publicly that should the H.R. 8 legislation come before the House again, I would vote in its favor. And today, I did just that," Kinzinger said in a statement after the vote.
Kinzinger, however, noted that "this legislation by itself will not stop the violence," although it "will help."
"The core of our issues cannot be changed by laws," Kinzinger said. "We cannot detect or deter evil by legislating. Accepting the reality that this evil exists is part of it, as well as holding those who commit these crimes accountable."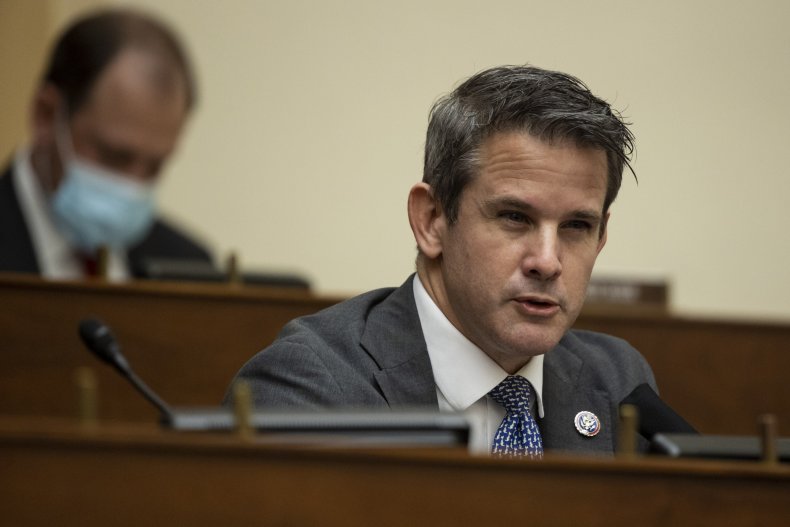 During a Thursday morning press conference prior to the vote, Democratic leaders stressed the broad bipartisan support for the legislation.
"We think this should be bipartisan in Congress, as it is in the country," House Speaker Nancy Pelosi of California said. She added, "There is broad support for background checks legislation."
According to a Morning Consult poll conducted from March 6 to March 8, the majority of American voters across the political spectrum support universal background checks. Overall, 84 percent of voters support universal background checks, while just 11 percent oppose the policy. This includes 77 percent of Republicans, 82 percent of independents, and 91 percent of Democrats in support of the motion.
The House of Representatives also passed H.R. 1446, the Enhanced Background Checks Act of 2021, on Thursday in a 219–210 vote. The legislation, which prevents any licensed gun sale from going through before a background check is complete, had less GOP support as only two Republicans voted in favor of the bill.
Newsweek reached out to Kinzinger's office but didn't hear back in time for publication.