77% of GOP Voters Support Background Checks for Gun Buyers as Dems Push Forward Bill
More than three-quarters of Republican voters support universal background checks for gun purchases—along with even greater majorities of independents and Democrats—as the House is set to vote on closing loopholes that allow some buyers to purchase a gun without being screened.
On Thursday, the House is expected to approve H.R. 8, the Bipartisan Background Checks Act of 2021, which is supported by Democrats and has three Republican co-sponsors—Representatives Fred Upton of Michigan, Chris Smith of New Jersey and Brian Fitzpatrick of Pennsylvania. Additionally, the House will vote on H.R. 1446, the Enhanced Background Checks Act of 2021, to prevent any licensed gun sale from going through before a background check is complete, which is currently allowed in some instances.
New polling by Morning Consult conducted from March 6 to 8 shows that requiring universal background checks is widely popular with voters across the political spectrum. Overall, 84 percent of voters support universal background checks, while just 11 percent oppose the policy. An additional 5 percent of respondents said they did not have an opinion or don't know.
Furthermore, 77 percent of Republicans and 82 percent of independent voters approve of universal background checks, as do 91 percent of Democrats.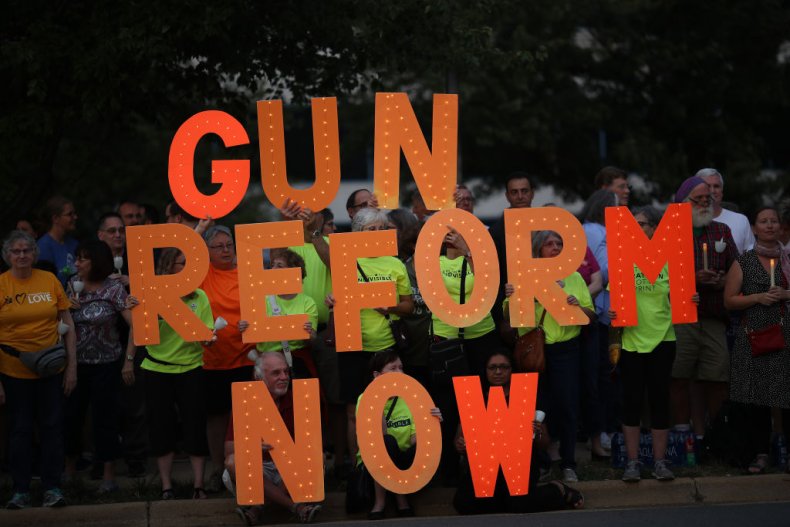 During a Thursday morning press conference, Democratic leaders stressed the broad bipartisan support for the legislation—even as it faces significant opposition from many GOP lawmakers in Congress.
"We think this should be bipartisan in Congress, as it is in the country," House Speaker Nancy Pelosi, a California Democrat, said. She asserted that "there is broad support for background checks legislation."
Senator Chris Murphy, a Connecticut Democrat and staunch advocate for gun reform, said that this was "a unifying issue." Murphy joked that the only place where the legislation was controversial is around the nation's capital. Similarly, Senate Majority Leader Chuck Schumer, a New York Democrat, stressed that Americans "overwhelmingly" support the effort for reform.
A 2019 poll conducted by Quinnipiac University showed even greater support for universal background checks. In that survey, 94 percent of respondents said all gun buyers should be subject to background checks, while just 4 percent said they were opposed. A July 2019 poll conducted by NPR/PBS/Marist showed a similar result, with 89 percent of voters approving of universal background checks. That included 84 percent of Republicans.
Meanwhile, some GOP lawmakers are inaccurately attempting to portray the legislation as the government taking away Americans' right to own guns.
"I'm 5 foot tall, I barely weigh 100 pounds. I need something against a stronger potential aggressor to defend myself with. Talk about women's rights—don't take my right away to protect myself," freshman Representative Lauren Boebert, a Colorado Republican, said in a Wednesday floor speech voicing opposition to H.R. 8.
Fellow freshman Representative Madison Cawthorn, a North Carolina Republican, said that members of Congress wanted to take his guns away.
"You want my guns, I know it, we all know it. Well, Mr. Speaker, you can come and take them," Cawthorn said in Wednesday remarks from the House floor.