Majority of Americans Say Background Checks for Guns Are More Important Now Than Before Pandemic Began, Poll Shows
A majority of Americans said the importance of background checks for gun purchases has increased since the coronavirus pandemic first began spreading around the globe in January, new polling published Monday showed.
The poll, conducted by Everytown for Gun Safety and Global Strategy Group, surveyed 1,500 adults between April 17 and April 22 to gauge the extent to which attitudes toward gun violence prevention had changed since pandemic restrictions began placing new stressors on the American public.
While support for gun safety legislation has been on the rise in recent years, pollsters suggested the latest spike indicates an awareness of the threats many Americans face while stuck at home, either with domestic abusers or with partners who have the potential to become violent while struggling with new social and economic hardships introduced to their lives in recent months as a result of COVID-19 restrictions.
Everytown's poll also showed that 68 percent of Americans believed it was more important to prevent domestic abusers from purchasing firearms than it had been before the pandemic.
"Amid the pandemic, voter support for common-sense gun safety measures is clearly surging — and that's going to make an impact not just in the presidential race, but also down the ballot in competitive Senate, congressional and legislative races around the country where lawmakers have opposed gun safety," Charlie Kelly, a senior political advisor with Everytown, told Newsweek.
The recent bipartisan boosts in support for gun legislation recorded by pollsters indicate the November general election could impact the ways in which voters cast their ballots more broadly, Kelly added.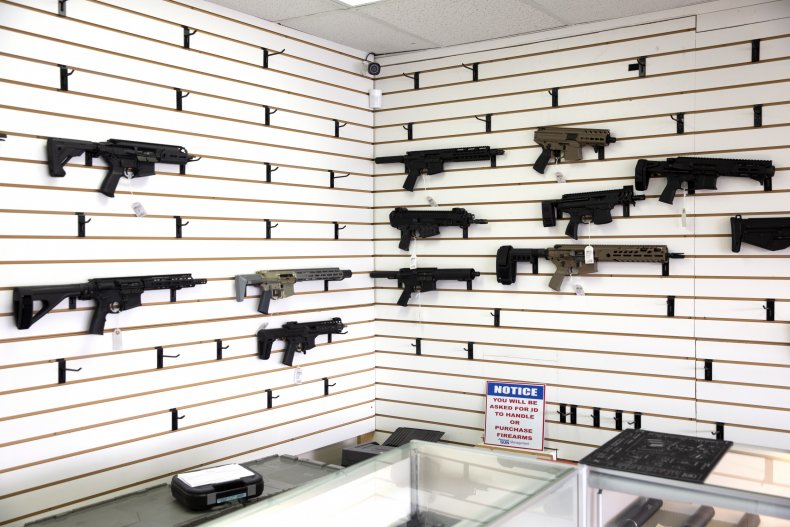 Support for background checks also has increased across party lines and in voter groups that are expected to be key in the 2020 presidential election, including among suburban women and in battleground states. While 70 percent of Democrats and 51 percent of Republicans said background checks were more important in April than they were at the start of the year, 55 percent of Independents and 59 percent of voters in background states agreed. Fifty-nine percent of suburban women also said the pandemic had made background checks more important, support that was echoed at the same percentage among gun owners.
Voter backing for background checks and blocks on gun sales for domestic abusers increased further after pollsters told respondents about rising gun sales in the U.S. Data released by the Federal Bureau of Investigations (FBI) showed background checks for gun purchases in March jumped by 41 percent compared with the number of those reported in March 2019. According to Everytown, an estimated 4.2 million guns were sold in March and April, nearly double the number of firearms sold during the same time last year. After respondents were told about the spike in gun sales, the importance they placed on background checks increased from 60 to 70 percent, while their support for blocks on purchases by domestic abusers also rose from 68 to 72 percent.
Kelly said the pandemic is likely to cast a longer shadow on the gun conversation in America than mass shootings and other traumatic events.
"You might expect to see a small spike in support for gun safety laws following high-profile shootings, but what we're seeing now indicates a much more significant shift," Kelly said. "Not only do voters across party lines and across key demographics want action on gun safety, but during the pandemic, the intensity of their support for measures like background checks and disarming domestic abusers has surged dramatically.
"Gun safety has become a kitchen-table issue—and heading into the election, that ought to strike fear in lawmakers who've stood with the gun lobby instead of Americans' safety."