Gun Control Laws: These Are the Measures Americans Support
After shocking mass shootings over the past few years in the United States, and especially the recent Parkland, Florida, high school shooting that led to nationwide student activism, American support for a variety of gun control and gun safety measures is at record highs. Could this be the year legislators and communities take significant action on gun violence?
Sixty-five percent of Americans support having stricter gun laws in the U.S., according to a poll from Quinnipiac University published on Wednesday, and that number rises when it comes to various specific policy proposals, including universal background checks and waiting periods on gun purchases. Last week's Quinnipiac poll on gun control, putting that number at 66 percent, was a record high for the polling service. A CNN poll on Sunday also saw record highs for its own polling, with 7 in 10 Americans wanting stricter gun laws.
"I do think this time is different," April Zeoli, a professor of criminal justice at Michigan State University, told Newsweek. "We are seeing a groundswell movement that we have not seen before​."
Jay Corzine, a sociology professor who researches violent crime at the University of Central Florida, said the major proposals in play can be divided into two categories: "Measures that would have the potential for limiting or reducing mass shootings," he said, and "measures that have the potential for decreasing body count when there's a mass shooting."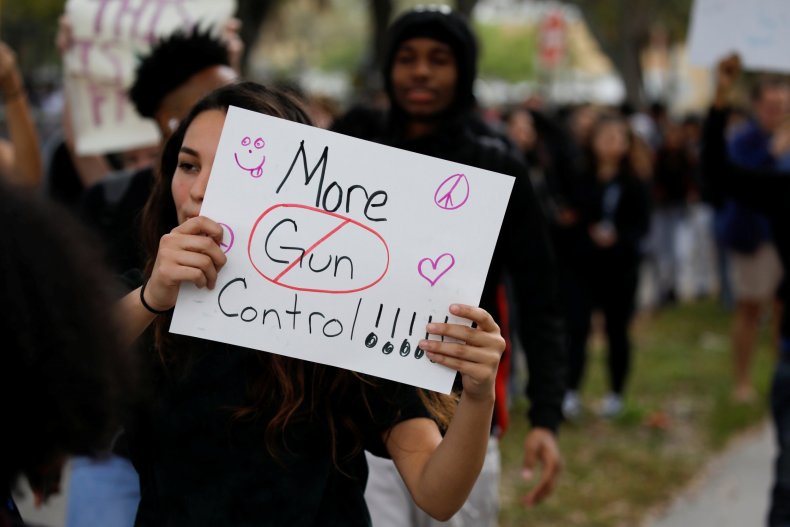 Here are some of the most popular proposals for action on gun violence in the U.S. right now:
Background Checks
There is overwhelming support for universal background checks among Americans. A whopping 96 percent support them, according to the Quinnipiac poll. Right now, federally licensed gun dealers (not including gun shows or other private sales) must perform background checks, but there's a catch: Federal agents have only 72 hours to complete them, and then the gun sale proceeds, even if the agent's investigation was not yet complete. Some states have passed laws to close that loophole.
Bump Stock Ban
President Donald Trump, in a surprising twist, announced on Wednesday that he would like to ban bump stocks by way of executive order. It's a move that gun safety advocates have been pushing for since the October mass shooting in Las Vegas, in which a gunman used a bump stock device to make his semi-automatic rifle fire rapidly.
After that shooting, an NPR-Ipsos poll in October found that 82 percent of Americans supported banning bump stocks.
Assault Weapons Ban
This is one that used to be law in the U.S., and that 62 percent of Americans support today, according to Quinnipiac. The Assault Weapons Ban of 1994 expired in 2004, and Senator Dianne Feinstein, a Democrat from California, tried to revive it in 2013 after the Sandy Hook Elementary School shooting, but the bill did not get enough support. Today, there is a wide partisan gap—with 86 percent of Democrat respondents and 40 percent of Republicans in favor—Quinnipiac found.
Related: Sandy Hook anniversary: These are the gun control laws that have failed since the Newtown shooting
Ban on Semi-Automatic Rifles
The semi-automatic rifle was the kind of rifle used in the Marjory Stoneman Douglas High School shooting, as well as the mass shooting in Las Vegas in October. Fifty-three percent of respondents agreed that all semi-automatic rifle sales should be banned. On Wednesday, Dick's Sporting Goods nodded to that trending sentiment and announced that it was going to halt the sales of military-style semi-automatic rifles in all of its stores.
Waiting Period for Buying Guns
Eighty-seven percent of respondents in the survey said they would support a mandatory waiting period for people buying guns. Right now, gun buyers have to wait for background checks if they go to federally licensed gun retailers, but there is no federally mandated waiting period.
Raising the Minimum Purchase Age to 21
Both Walmart and Dick's Sporting Goods on Wednesday announced they were raising the minimum purchase age for guns to age 21. This is a proposal supported by 78 percent of respondents in the Quinnipiac poll, with 68 percent of Republicans and 93 percent of Democrats in favor.
Corzine said he thinks this proposal has a "good chance." He added, "It doesn't make sense to allow someone to buy a rifle at 18, but they can't buy a handgun until they're 21."
Related: How we talk about bullying after school shootings can be dangerous: Experts
Mental Health Resources
A talking point that has gained traction on both sides has been increasing government funding for mental health resources to provide treatments and screenings in order to prevent gun violence. According to a CBS News poll published on Friday, 87 percent of Americans support more government spending for these resources.
Although increasing mental health resources is a positive development, Zeoli is skeptical that it will do much to reduce gun violence or mass shootings.
"People with mental illness are not terribly likely to be violent to others," she said. "Their violence, if they are violent, tends to be self-directed."
When it comes to finding answers after mass shootings, she said, "We tend to go to mental health problems, because it is difficult for many of us to understand how someone in their right mind could commit such an act."