Lindsey Graham Slammed After Questioning Jackson's Religious Beliefs
South Carolina Republican Senator Lindsey Graham is facing backlash after questioning Supreme Court nominee, Judge Ketanji Brown Jackson, on her religious beliefs during the second day of her confirmation hearings.
Graham began his questioning of Jackson on Tuesday by asking the judge what her faith is, as he aired grievances about the treatment of Amy Coney Barrett and other conservative justices.
"Could you fairly judge a Catholic?" Graham asked after Jackson described herself as a non-denominational Protestant. He then went on to ask the judge about how important her faith was to her and to rate her faithfulness in terms of religion on a scale of 1 to 10.
"I am reluctant to talk about my faith in this way," Jackson replied, explaining that she wants the public to be confident in her ability to separate her personal beliefs from her decisions as a judge.
Jackson also reminded Graham: "As you know there is no religious test in the Constitution."
The senator's questions came just one day after he told Jackson that she wouldn't be vilified or attacked for her religious views. On Tuesday, Graham asserted there was a double standard where conservative nominees are treated as "weirdos" when describing their family and faith while Democrats are not.
The senator's line of questioning about Jackson's religious views drew criticism on social media.
"Why is Lindsey Graham grilling Judge Jackson about her religion?" Jon Cooper, a prominent Barack Obama fundraiser and former National Finance Chair of Draft Biden 2016, tweeted Tuesday. "He is disgusting."
"Asking a job applicant their religion is unconstitutional," one Twitter user wrote. "That's how Sen. Graham starts Judge Brown Jackson's interview."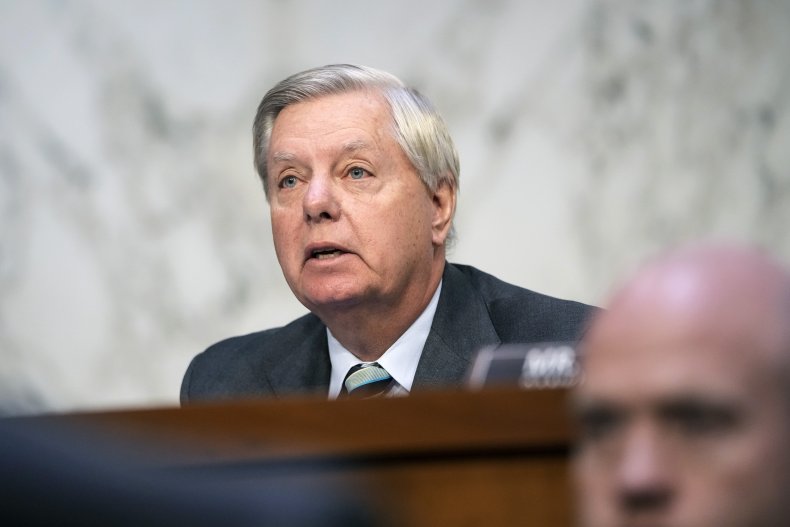 "Extremely weird and uncomfortable as Lindsey Graham asks Judge Jackson what her religion is, how often she goes to church, if she could fairly judge a Catholic, etc. This is absurd. As Jackson says, there's no religious test in the Constitution," attorney Madiba K. Dennie tweeted.
Joe Madison, a Sirius XM radio host, wrote on Twitter: "Doesn't Lindsey Graham have a law degree? Why is he asking unrelated questions about her faith??"
Republicans spent a fair amount of time during Jackson's first day of hearings airing their complaints about the Barrett and Brett Kavanaugh confirmation process—both of whom were appointed by Donald Trump and ultimately confirmed to the Supreme Court.
Texas GOP Senator Ted Cruz called Kavanaugh's hearings "one of the lowest moments" in the committee's history on Monday and told Jackson no one was going to ask her if she "likes beer."
Graham himself said Monday that Jackson's confirmation process "won't be a circus."
Update 03/22/22, 12:00 p.m. ET: This story was updated with more information and background.