Lindsey Graham on Trump: 'I Don't Like What He Says About John McCain' But 'When We Play Golf It's Fun'
South Carolina Senator Lindsey Graham told Bloomberg that he doesn't like what President Donald Trump has to say about the late Senator John McCain, but that he enjoys playing golf with the commander-in-chief.
Once a vocal critic who teamed up with late McCain to criticize Trump, Graham has subsequently drawn criticism from the left for his re-branding as an ally of the president.
Four years ago, Graham called Trump a "jackass." The senator filmed a video destroying his phone with a golf club after Trump read the South Carolina legislator's cell number during a public speech. Three years ago, Graham said that then-candidate Trump would make a "terrible commander-in-chief." Shortly after Trump took office, Graham criticized the president for falsely claiming that millions of undocumented immigrants cast ballots for Hillary Clinton, shifting the popular vote. (They didn't.)
However, since then Graham has become known for his staunch backing of Trump, even as the president continues to lash out at McCain, who had been one of Graham's closest friends in Washington before passing away in 2018 after a battle with cancer.
"I don't like what he says about John McCain," Graham told Bloomberg in a profile of the South Carolina legislator. "But when we play golf, it's fun. And I think he's seen my ability to help him, that I can actually help put deals together."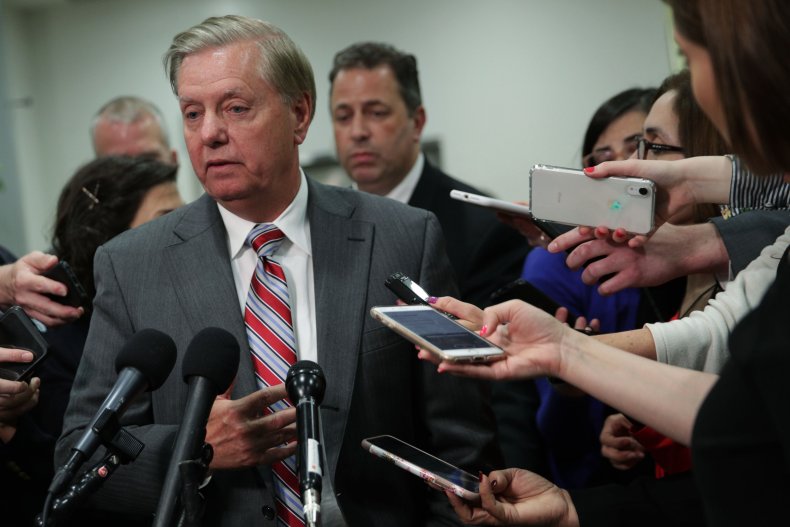 Graham has been derided for what critics have characterized as a spineless shift to support the president for political gain. The senator's actions to defend Trump have not been helped by his own words. Old video footage of Graham saying — during the 1998-1999 impeachment proceedings for President Bill Clinton — that a president's failure to comply with Congressional oversight is an impeachable offense has circulated online. Last month, the hashtag "LindseyGrahamResign" trended on Twitter, after the lawmaker recommended Donald Trump Jr. ignore a Congressional subpoena.
But Graham's shift from fierce Trump critic to strident Trump supporter isn't an anomaly. Rather, it appears to signal a broader, and frequently noted, shift within the Republican Party.
Conservatives regularly criticized Trump during the 2016 campaign. Now, despite a number of departures from the GOP, with some legislators directly rebuking the president when explaining why they were withdrawing from their seats, the party has reshaped itself around the president. The Republican National Committee has pledged support for the president in 2020, while Trump attacks dissenters in the press or online.
The party has largely backed Trump's domestic policy, championing the president's tax reform legislation and pointing to economic growth, while also largely ignoring the ballooning national debt. But public support for the president has shown signs of fraying over Trump's approach to trade and his recent efforts to use tariffs to pressure countries to alter their policies.
The escalation of tensions with China, which Trump catalyzed when raising tariffs from 10 percent to 25 percent on $200 billion of Chinese goods last month, has provoked dissent from legislators in states with large agricultural sectors. But the looming threat to impose tariffs on all goods imported from Mexico has prompted much more vociferous criticism, and Republican senators have threatened to block attempts to implement the 5 percent tariff next week.
"There is not much support in my conference for tariffs, that's for sure," Senate Majority Leader Mitch McConnell said in a rare deviation from Trump.