Republican Senator Lindsey Graham of South Carolina warned President Joe Biden on Sunday that ending the "remain in Mexico" immigration policy would be disastrous.
"If the Biden Administration ends the 'Remain in Mexico' policy for asylum seekers- and changes asylum reform measures- it will be a catastrophic combination leading to a run on our border and complicate efforts to pass immigration related legislation," Graham said in a tweet.
"Over 50,000 asylum seekers have been waiting in Mexico rather than in the United States where they often disappear while waiting in the one million person asylum case backlog," Graham added later in a Twitter thread.
"If that policy changes then the magnet created by abuse of our asylum laws will be turned back on," the senator maintained. "Major problems lie ahead if President Biden goes down this road."
Hours after Biden was inaugurated on January 20, the Department of Homeland Security announced that it would pause deportations for some noncitizens in the United States for 100 days and would stop new enrollments in the Migrant Protection Protocols policy, also known as the "remain in Mexico" program.
In a memo, David Pekoske, the acting Department of Homeland Security Secretary, said the U.S. "faces significant operational challenges at the southwest border as it is confronting the most serious global public health crisis in a century."
"In light of those unique circumstances," Pekoske continued, "the Department must surge resources to the border in order to ensure safe, legal and orderly processing, to rebuild fair and effective asylum procedures that respect human rights and due process, to adopt appropriate public health guidelines and protocols, and to prioritize responding to threats to national security, public safety, and border security."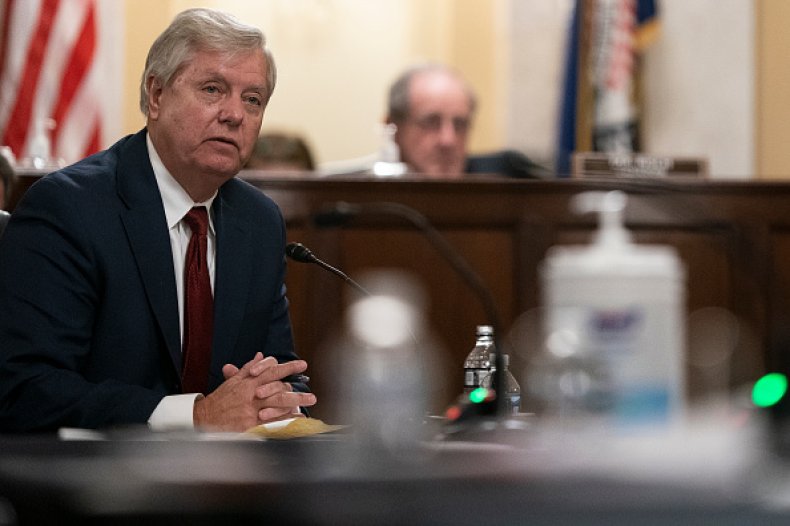 On January 26, the plan hit a roadblock after the U.S. District Judge Drew Tipton issued a temporary restraining order against the Department of Homeland Security's memo. The restraining order was sought by Texas Attorney General Ken Paxton.
The "remain in Mexico" policy was put in place by former President Donald Trump's administration in January 2019. It required asylum-seekers aiming to enter the U.S. from the southern border to wait in Mexico for their court hearing.
The program has led to nearly 60,000 migrants being sent back across the border, according to NPR, while tens of thousands are stuck in Mexico living in unsanitary and potentially unsafe conditions, especially amid the coronavirus pandemic.
Newsweek reached out to the White House and Graham's office, but didn't hear back in time for publication.